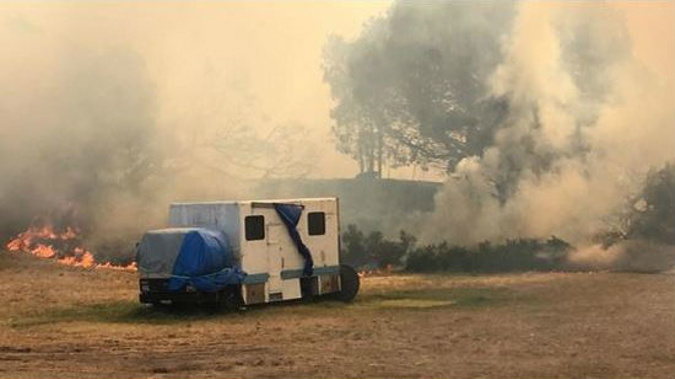 UPDATED 9.15PM  A fire at the coastal settlement of Mahanga where a house has been destroyed is contained.

A Fire Service spokeswoman said the fire is under control and crews will work on to put it entirely out.

The fire, which started about 3.30pm on Sunday, has burned through 35 hectares.

One house is destroyed and no one is reported to be injured.

Six helicopters and 12 appliances from stations around the region supported the local Mahia brigade.

Radio New Zealand says their reporter Liz Brown, who is staying there, saw the fire come within 10m of the settlement but the wind changed before it came across the road.

She and other eyewitnesses say the fire spread quickly through dry grassland and people packed up and left homes in the settlement.
Police assisted at the scene, a spokeswoman said.

Auckland woman Sarah Young posted images of the blaze on Facebook and told the NZ Herald she thought the fire had come from a new subdivision where a house was relocated three weeks ago. The vacant house was gutted.

Wairoa District Council says an evacuation centre was set up at Te Ao Marama, a Gisborne Boys' High School camp facility at the northern end of the Mahia Peninsula.

"Thank you to everyone who has been offering support, offering their homes etc. Our community rallies in times like this," the council said.