State of emergency declared in Gore after heavy rain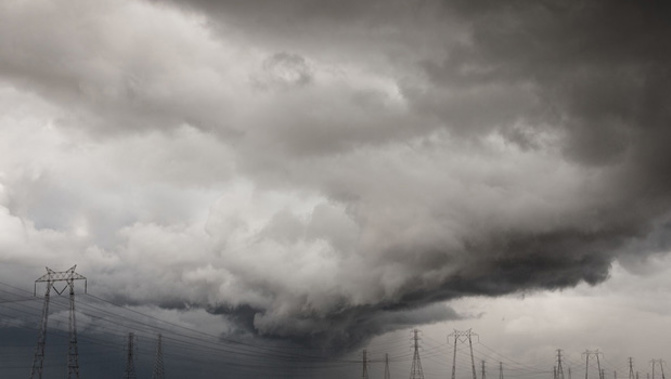 State of emergency declared in Gore after heavy rain
A state of emergency has been declared in the Gore District after heavy rain - but in the North Island record spring temperatures could be broken.
Gore District Mayor Ben Bell said about 72mm of rain fell this morning, causing "significant surface flooding".
In Gore and Mataura the stormwater and wastewater network has been overwhelmedand water is threatening homes. No one has had to be evacuated but Bell urged people to stay inside and avoid travel.
Council staff were protecting property with sandbags or by pumping water.
"However, this is a time-consuming process so we ask people to be patient and kind," Bell said.
He advised people to monitor their radios and the council's Facebook page and website for updates.
The council has been told consistent rain was expected until at least 5pm.
Emergency Management Southland group controller Simon Mapp said floodwater is affecting town and rural roads.
"Please also don't walk through floodwaters as there could be debris and uneven surfaces that can't be seen, and the water may be contaminated."
The active front moving northwards up the South Island continues to wreak havoc, with 14 severe weather warnings and watches currently in place.
Westland, Fiordland, Southland, Canterbury and Otago can expect up to 300mm of rain, on top of what has already fallen, throughout Thursday night.
MetService meteorologist Clare O'Connor says rainfall totals in Fiordland have exceeded 100mm of rain in 12 hours.
Meanwhile, Canterbury and northern Otago farmers in the middle of lambing and calving season have been warned of a significant snow event from Thursday night, with accumulations of around 10cm above 200 metres, and 20-40cm for areas above 400 metres expected.
"We're not just looking at alpine areas of the South Island, the snow level could be as low as 300 metres in Otago and down to 200 metres over the Canterbury Plains. This is a significant event, and particularly impactful for the rural community given the time of the year," said O'Connor.
Temperatures around these areas will plummet in line with the snow and will be particularly noticeable because of the balmy temperatures of late in the east of the South Island.
In South Canterbury, Fairlie hit 25C midday yesterday, but can only expect to reach 10C on Friday. Similarly, Alexandra reached 24C, but will see a daytime high of 11C on Friday and just 2C overnight into Saturday.
"These colder temperatures will cause the snow to stick around, and travel disruptions are expected in the alpine passes not only during the event but for the days following also," O'Connor said.
MetService says the weather event coincides with a time when many kiwis will be travelling and urges everyone to stay up to date with the latest weather watches and warnings, along with road information from Waka Kotahi NZ Transport Agency.
Additionally, strong wind warnings are in effect for the Canterbury High Country and Otago until this evening, as severe gale northwesterlies bring damaging gusts of up to 140 km/h in exposed places.
According to MetService, as of 9am on Thursday, 2501 lightning strikes had been reported over the South Island since 4pm on Wednesday.
Meanwhile, in the North Island the weather is a scorcher.
That includes Wairoa, where it was nearing 30C mid-afternoon.
But after welcoming scorching temperatures for the first time in months, the North Island is set to take a turn for the worst, as school holidays are forecast to kick off on a wet and wintry note.
MetService has already issued heavy rain watches for Mt Taranaki and the Tararua Ranges, beginning on Saturday, with additional watches and warnings expected further north over the coming days.
The alert comes after Wairoa, Hawke's Bay recorded a new all-time September temperature for the whole North Island at 2pm on Thursday at 29.6C. It surpassed the previous record of 27.7˚C in Hastings in September 1955.
Auckland looks to welcome the worst of the front on Saturday, with heavy rain expected.
"The heaviest rain is expected in the second half of Saturday and Sunday morning, likely disrupting travel on what will no doubt be a busy weekend on the roads," said MetService's O'Connor.
She says significant and widespread impacts are possible for the North Island.
By Sunday night, the front moves to the northeast of the North Island and becomes slow-moving.
Take your Radio, Podcasts and Music with you