Secondary school teachers hopeful for new pay offer
Author

Publish Date

Mon, 5 Nov 2018, 6:30PM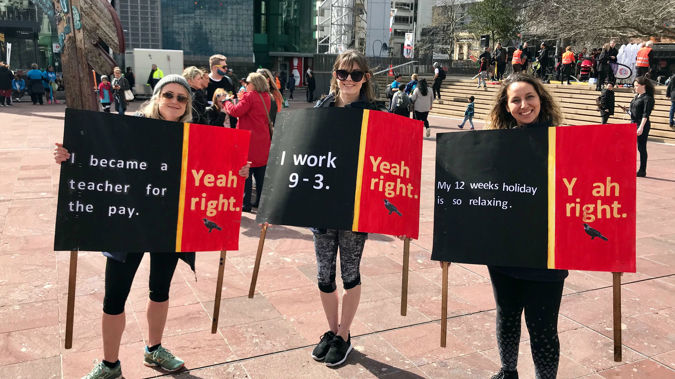 Secondary school teachers hopeful for new pay offer
Author

Publish Date

Mon, 5 Nov 2018, 6:30PM
High-school teachers say they are expecting a new pay offer from the Government tomorrow, as their primary-school colleagues continue mediation over their own pay claim.
Post Primary Teachers' Association (PPTA) president Jack Boyle said his executive would meet by teleconference at 7pm tomorrow to consider any new offer before secondary teachers begin stopwork meetings around the country on Wednesday.
"At our conference last month we rejected the offer that we had. We also set a line in the sand that November 6 was when we would expect an improved offer to take to paid union meetings," he said.
"We haven't got one at this point. This is really going down to the wire."
But the Ministry of Education may struggle to meet the deadline because it is still in mediation with the primary teachers' union, the NZ Educational Institute (NZEI), and is likely to try to make similar offers to both unions.
Mediation with the NZEI began in the Employment Relations Authority in Wellington at 10.30am today and adjourned just before 5pm. It will continue tomorrow.
NZEI members have voted for full one-day regional strikes next week, starting in Auckland on Monday and ending in Wellington on Friday, after rejecting the Education Ministry's last offer of a 9.3 per cent pay rise over three years.
Since then Prime Minister Jacinda Ardern has announced that the Government will fund 600 teachers as "learning support co-ordinators" from 2020, a major step towards an NZEI claim for special needs co-ordinators to be funded in all schools.
However the two sides are still far apart on pay, with the NZEI seeking a 16 per cent pay rise over two years. The Government also has not publicly offered anything yet on other NZEI staffing claims such as reducing the teacher/student ratio in Years 4 to 8 from 1:29 to 1:25.
Secondary teachers are seeking an immediate 15 per cent pay rise plus a housing allowance of up to $100 a week in Auckland, Tauranga and Queenstown.
They have so far been offered only the same 9.3 per cent pay rise over three years that has been offered to NZEI and has already been agreed with nurses and police officers.
Auckland Secondary School Principals' Association president Richard Dykes said most high schools would have to cancel classes for secondary teachers' stopwork meetings which begin at 1.30pm on Wednesday in Manukau and Central Otago.
"Most students will be allowed to go home. There will be no classes from about 12.30pm," he said.
"All teachers who are union members are allowed to go off-site. Non-union members are required to stay at school and schools will continue to cover students who are unable to go home."
The stopwork meetings, which will end in Wellington on November 23, coincide with National Certificate of Educational Achievement (NCEA) exams which run from November 7-30.
Boyle said the timing had been chosen to minimise disruption to classes because senior students will be sitting their exams with outside facilitators.
He said his executive meeting tomorrow night would discuss what industrial action might be proposed to the stopwork meetings if any new offer was unacceptable, or if no new offer was received.
"I certainly haven't designed anything that on this date we will do X. It will be up to the secondary teachers of New Zealand to decide," he said.
"I'm still in the hope that we can avoid that if the Government does provide a subsequent offer."
Ministry of Education deputy secretary Ellen MacGregor-Reid declined to comment on any new offer for secondary teachers.
"We are working towards agreeing a settlement with the NZEI through facilitated bargaining this week," she said. "The ministry has nothing further to add at this stage."
Teacher claims:
NZEI claim: 16 per cent over two years
PPTA claim: 15 per cent immediately plus housing allowance
Government offer to both: 9.3 per cent over three years