Inhuman stag party pays for homeless man's face tattoo
Author

Section

Publish Date

Tuesday, 31 July 2018, 12:12PM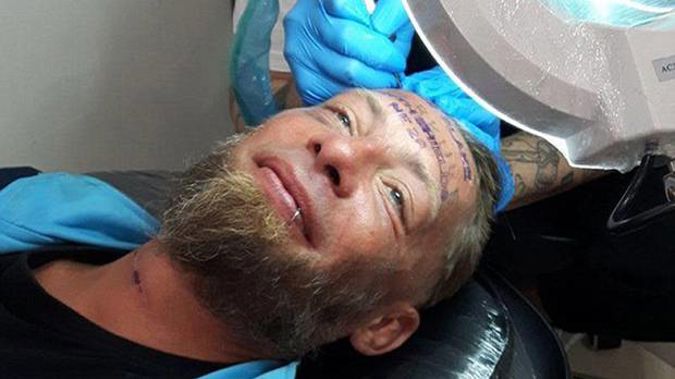 A British stag do paid a homeless man €100 ($170) to get the groom's name tattooed on his head.
The group ran into the man living on the streets in Benidorm, Spain, when they got the idea for him to get a tattoo that read: "Jamie Blake, North Shields, NE28".
They intended for the tattoo to be on the man's forehead.
However the man, who is Polish and named Tomek according to the Daily Star, was unable to complete the tattoo due to the pain.
Images show the man lying flat on his back on a chair while a lamp shone light on his forehead.
Tomek threw up a "peace sign" while he stared straight at the ceiling.
The image was shared to Facebook by the tattoo parlour.
A photograph taken later showed that the tattooing was stopped two letters into "North Shields", so it reads: "Jamie Blake No".
Many were unhappy with what they saw.
Local businesses are even discussing the possibility of paying to get the tattoo removed.
The president of the Benidorm British Business Association slammed the actions of the men on the stag do.
Karen Malin Cowles, who knows Tomek, told the publication: "What they have done to this man is utterly inhuman and akin to abuse.
"I'm appalled that a group of grown men would take advantage of someone in such a vulnerable position. They have left a human being scarred for the rest of his their life."
Getting a tattoo on your head or face is considered one of the most painful places to get inked as it can create an uncomfortable sensation in the skull.
Other painful places that can be extremely painful to get tattoos include fingers, the rib cage and spine.
"Anybody comes to offer any homeless person €100, he takes it," said Mrs Cowles, whose husband is a tattoo artist.
Speaking with the Guardian newspaper, she intends to raise money to get Tomek's tattoo removed, "I want to get him the help he needs."
Beyond getting the tattoo removed it should be a spark for a larger conversation around the behaviour of some UK tourists overseas.
"We need to be looking at why this behaviour is taking place, why it's OK to do what you like when you're on holiday," she said.
This latest shocking story comes after Benidorm's latest attempt to crack down on antisocial behaviour. In April the City Council drafted a new "code of conduct" concentrating on the problems of British tourists and scammers in the infamous seaside strip.