Your All-Day Headset for Work and Play
Author

Publish Date

Thu, 2 Sep 2021, 4:32PM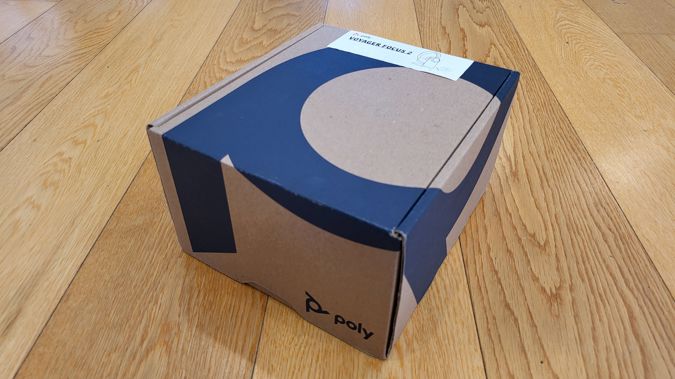 Your All-Day Headset for Work and Play
Author

Publish Date

Thu, 2 Sep 2021, 4:32PM
The line between our professional and personal lives has been blurred more than ever. 
I mean, think about it. Last year, the pandemic hit and we were all told to take our work home with us. Literally. Depending on how well organised and resourced your company was, you were handed a collection of bits and pieces - maybe a laptop, perhaps a Wi-Fi extender, a list of log-ins - and instructed to go and set up your own WFH office.
How many of us back then could have predicted the rise and rise and rise of the video call? Who knew online meetings would become the norm, even once we were allowed to unlock and come back to the office?
The question is, when work assigned you that box of bits and pieces, was there a headset in there?…
Poly, (formerly Plantronics and Polycom) has a pretty impressive range of office audio products to offer and when it comes to a versatile, personal (possible home-office) solution, the Voyager Focus 2 is a pretty tidy package.
For starters, the design is obviously centred around all-day use. It's an on-ear, rather than over-ear form factor which means there's no suffocating, sweaty, sealed-in sensation when you're wearing it. In fact, the Voyager Focus 2 is incredibly light, weighing in at just 175grams - and the unique, sling-style headband ensures the whole device rests comfortably and perfectly balanced, every time you put in on, feeling virtually weightless.
The ear-cushions themselves are padded just right - squishily soft enough for comfort while not too bulky.
I would point out, as a glasses-wearer, while the metal outer-headband looks attractive and adds a definite air of durability, it's possibly slightly too springy for my oversized cranium and I do find the arms of my specs start to rub a little after prolonged use.
Perhaps my favourite physical feature? It wasn't until I was trying to figure out which side was right and left on this headset I discovered that it's entirely up to you. The mic boom can actually swing down either side, depending on your preference and that in turn orientates the the right-left stereo mix. I love clever tricks like that. The only thing to watch for is the mute button on the mic boom will end up being on top or underneath, depending on which side you decide to use it on. Pretty sure that won't make any difference to anyone though.
The Voyager Focus 2 also ships with a soft carry case and a desktop charging stand - both of which err towards the minimalist, no-fuss end of the aesthetic - and that's just fine by me. As I always say, I'm no fan of unnecessary flashing lights or gaudy colour schemes. Both these items put functionality first and that's just the way  I like it.
Setup is relatively straight-forward - I'm sure we've all paired a Bluetooth device before and if your computer doesn't have Bluetooth capability a USB dongle is provided. Without even realising I could, I was able to pair with my desktop computer and my iPad. It turns out you don't have to swap between different devices, you can simply pair to both at once.
This is just one way the Voyager Focus 2 is uniquely suited to the Work From Home environment; sometimes we're at the computer, sometimes on the phone.
To keep the firmware up to date and adjust settings like voice responses and wear detection, you'll need to download the PLT Hub app. This is a pretty stripped back, utilitarian kind of an app and doesn't really offer a lot of extras. There's no EQ adjustment for example, so if you want to adjust that you'll have to do it from the sound settings on your source device instead.
Another feature that makes this headset a home-office essential is the Acoustic Fence technology Poly has built into the microphone. The idea is the mic only picks up sound from the area directly around the boom without any background noise. Given I'm currently in lockdown with someone practicing four hours a day for their classical clarinet degree, this is a welcome feature indeed. The audio quality from the mic itself is good without being exceptional. The tone is a little flat and dry, although it's certainly clear as a bell and generally cuts through with no clarinet whatsoever.
Which brings us to the other half of the audio equation; how the Voyager Focus 2 sounds. Let's start by blocking out that clarinet altogether - there are two levels of Active Noise Cancellation, or obviously you can turn it off completely. This works about as well as it can given this is an on-ear headset and doesn't seal your ears up completely.
The on-board controls are all pretty standard and easy to locate - on the same earcup as the mic boom. 
In terms of general sound quality, I've been completely blown away how good it sounds. Sure, those video calls come across loud and clear, as do my essential podcasts, but when it comes to enjoying my favourite playlists or perusing new-release streaming stations, I'd have to say this headset is up there with some of the best I've tried. I honestly wasn't expecting this from a device that looks like it was built to make and take calls at reception. Which it can totally do obviously but the dynamic range is exquisite - especially the bass response.
In fact, the sound is so good, I have no hesitation recommending the Voyager Focus 2 as your primary listening accessory to pair with your phone when you're out and about. As I've mentioned, it's light, comfortable and the battery life of up to 24hours with ANC on is pretty off-the-hook.
The model I'm reviewing comes with its own desktop charging stand, a convenient way to keep the headset handy and always fully charged. It also charges via microUSB cable - which is starting to sound a little old-fashioned as many other devices move towards USB-C - but don't worry, there's a cable in the box.
I expected the Voyager Focus 2 to be a functional, practical, WFH accessory. Turns out, it's a lot more than that. Comfy enough to wear all day, with the battery life to last that long, while the mic features and superior sound quality make this a very impressive headset indeed - for home or office.
Click here for more information on the Poly Voyager Focus 2 stereo bluetooth headset.