Now It Has a Laser!
Author

Publish Date

Wed, 2 Jun 2021, 5:58PM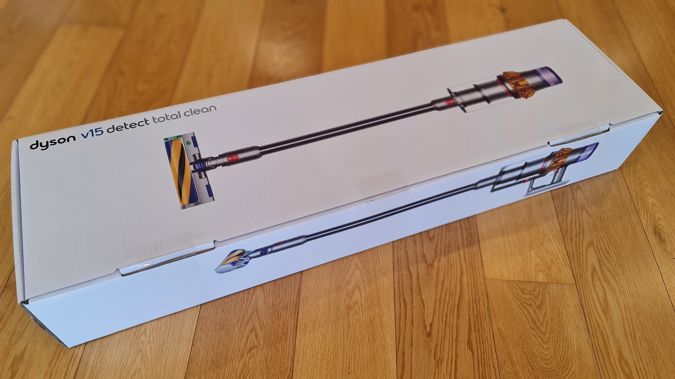 Now It Has a Laser!
Author

Publish Date

Wed, 2 Jun 2021, 5:58PM
Okay, okay. It's Dyson time again and yes, inevitably, yes I'll be pretty gushy about it. You've been warned. What can I say? I'm a fan.
It's fair to say, since Dyson began selling stick vacuums capable of cleaning a whole house, my housework experience has been completely transformed.
Let's forget all the other innovations Dyson has become famous for over the years - and to be sure, there are many indeed - just let me remind you how good the batteries are on these things.
I live in a relatively large, two-storey, four-bedroom family home. I can vacuum it cordlessly, with the legendary power of a Dyson, on a single charge. No plugging and unplugging. No lugging a long central-vac hose around, damaging paintwork and knocking things over. Just a lightweight, perfectly balanced, agile cleaning machine in my hand.
How does it get better than that?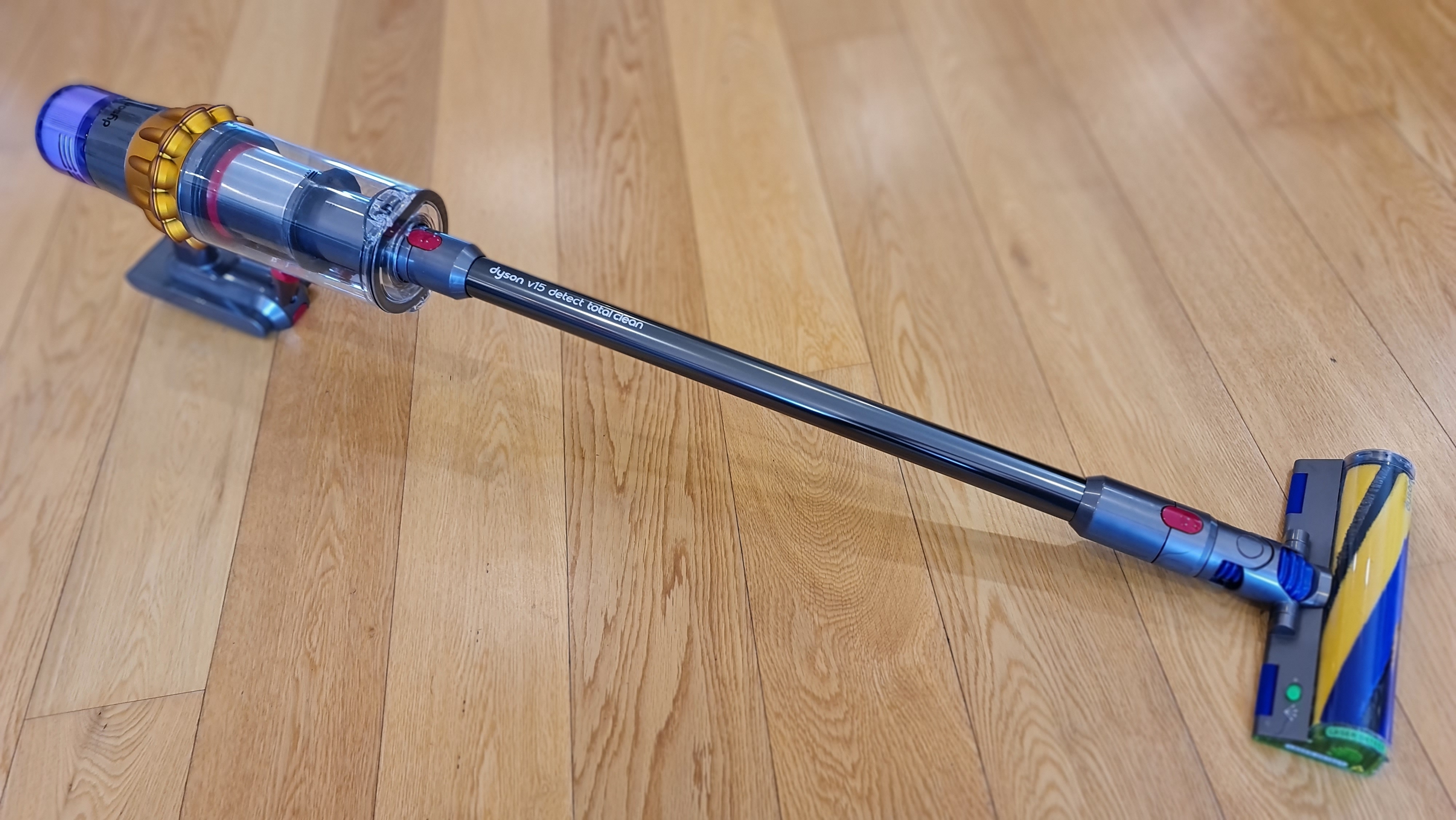 Well, to be perfectly honest, the first time I used the Dyson V15 Detect Total Clean (very long name, so I'll just be calling it the V15 from here on in) it didn't get better.
Dum-duh... (Dramatic pause)
Not in terms of battery life that is.
Everything else was utterly amazeballs.
And to be super perfectly honest, the battery only ran out with two minutes to go... and there's an explanation.
So let's start there before we get onto the really cool stuff; the V15 has the same size 3600mAh battery as its predecessor, the V11 - both promising up to an hour's use if set to Eco-mode on hard floors. So what's the difference?
Here's my theory; the V15 is too clever.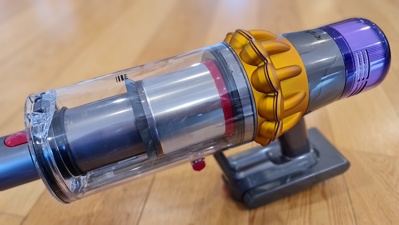 One of its flagship features is its piezo sensor. Believe it or not, this sensor detects the size and amount of particles entering the vacuum, by listening to them. And it listens to them really fast - about 15,000 times a second. If there's a lot of dust, or there are a lot of larger bits, the piezo sensor instructs the V15's Hyperdymium motor to lift its game and increase the power automatically. If this sounds more like the kind of thing you'd find on a spacecraft... it is.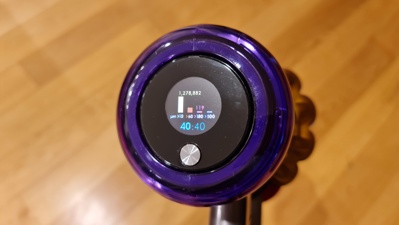 You can actually see what this NASA-style sensor is up to on the V15's colour LCD screen. It gives you a real-time update on just how microscopic your household dust and detritus is.
But that, as they say, is not all.
When in Auto-mode, the V15's High-Torque cleaner head monitors resistance against its brush bar 360 times a second, sensing different floor types, again applying more power when it gets to carpet and rugs.
So basically, the V15 took one look at my floors (which obviously took just a fraction of a second) and decided they were so disgusting, a seriously deep clean was in order. Sure, if I'd manually set the vacuum to Eco-mode, I would have coasted home with plenty of battery to spare - but where's the fun in that?
By the end of my first vacuuming session, I was mortified by the magnitude of what the V15 had sucked out of my floors - check it out...
Bear in mind, I'd previously been using an older Dyson which I'd thought was doing an awesome job. Turns out, the V15 is even awesomer.
Now, if you can bring yourself to take a really good look at that pic, you'll notice something pretty significant - other than the sheer volume of gross stuff I mean. See all the hair? That's a lot of hair in there right? I feel like not much of it is mine but then I'm not the only creature in the house.
(something I was so impressed by, I've reviewed it separately)
 but the High-Torque cleaner head now has a detangling comb built into it to keep the hair off the brushes and straight into the dust bin. Life-changing.
Whoops... nearly forgot the laser.
Oh, doesn't your vacuum have a laser? Oh well. Never mind. Mustn't judge.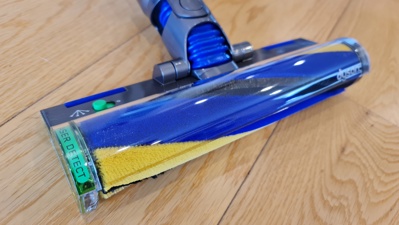 Yes, the other reason I probably spent a bit longer vacuuming first time out with the V15 was its laser, built into the "Fluffy" cleaner head, specifically engineered to cast a green light across hard floors so you can easily spot every single speck of dust by the shadow it casts. This is particularly revealing (disturbing) in places like under shelf units, beneath tables and along the base of kitchen cabinets. Luckily, the new Laser Slim Fluffy head is extremely flexible and can be used at an almost horizontal angle to get right under low furniture.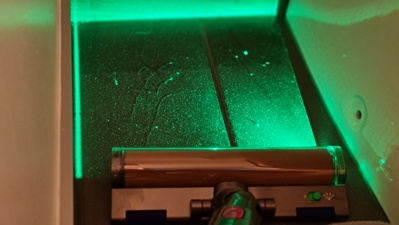 One place that really surprised me was in bathrooms around the loo - microscopic particles of toilet paper fluff was literally coating the floor tiles and I'd never really seen it before the laser picked it up. Too much information? Hmmm... the things we reveal in the name of tech journalism.
The point is, all those areas required a lot of extra attention once the precisely angled laser revealed how truly filthy they really were.
No wonder my battery ran out just before the end.
On the bright side, my floors have obviously never been cleaner and the next time I vacuumed, the laser showed me where I no longer had to vacuum, as well as where I needed to do a bit more, actually saving me time. What's more, you now have the option of a click-in battery, so you can keep a spare charged up and ready to go if you get really carried away like I did first time out.
It must be noted, with the V15, Dyson has returned to a more conventional size - both with its cleaner heads and bin capacity. No sign of an Outsize version like there was with the V11. Not yet anyway.
Some devices get a little bit better with each generation. This time round, Dyson has taken another giant leap - never happy to rest on its laurels, packing about as much new tech as possible into the V15 to make it yet again, the most impressive floor cleaning machine on the market.
No more tangled hair? You've gotta love that.
Click here for more information on the Dyson V15 Detect Total Clean stick vacuum.