My Favourite Fit Yet
Author

Publish Date

Tue, 26 Oct 2021, 12:10PM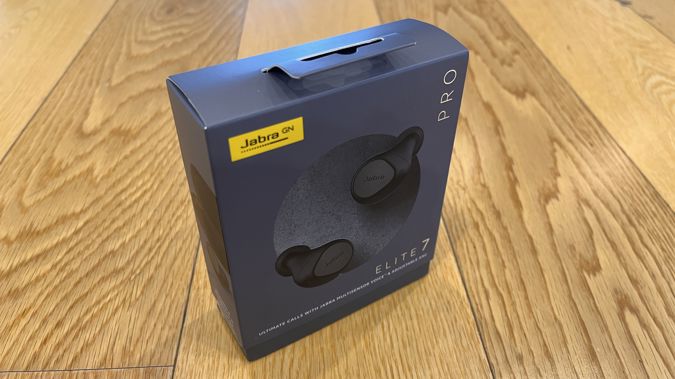 My Favourite Fit Yet
Author

Publish Date

Tue, 26 Oct 2021, 12:10PM
So here we go again, deep diving into the seemingly infinite world of wireless earbuds. I feel like I've stuck more of these in my ears this year than every other year combined - and it's not even November!
But, like most tech, just when you think they can't make it any better, they figure out a way to make it better, sometimes in ways you didn't even realise were possible.
Recently Jabra released not one but three new models in its earbud range. I reviewed the more entry-level Elite 3's a couple of weeks back and was definitely impressed with what was on offer. Which made me wonder how much things could improve at the other end of Jabra's pricing scale?...

Jabra's premium offering this year is the Elite 7 Pro. 
Here's the thing though... The more earbuds I try - and remember; I make sure I spend at least a couple of weeks using them in real life, exercising, gaming, streaming, video calls, housework - the more obsessed I have become with one feature above all else; how do they fit?
This is because, especially in this price range, all the other stuff is pretty much a given. For example, once you're paying over $300, excellent battery life should be a minimum expectation. In this area, the Elite 7 Pro definitely lives up to that expectation - and then surpasses it. Promising up to 8 hours continuous play - even with ANC switched on - and 30 hours total play with a fully charged case, these are figures I'm more used to seeing with full-sized, over-ear headphones, not tiny little buds like these. It's great to have the convenience of a case that charges wirelessly too, especially since Jabra has made the odd decision to put the USB-C charging port at the front, just below the charging indicator LED. This makes it a bit hard to see when you have it plugged in, so wireless is a better (albeit slower) option.
Sound quality is another take-it-for-granted feature. Yes, yes... I know there are sound nerds out there who insist on breaking down every frequency range and are determined to compare every genre of music so they can create the ultimate ranking list of earbuds by sound performance alone but in my humble view, as long as you can can customise the EQ to your preference, which you definitely can via the Sound+ app, if there's a half-decent driver setup, you'll be pretty happy with the results.
6mm doesn't sound big but for earbuds, that size speaker is quite a feat of engineering. And it's not just the EQ you can fiddle with via the app - you can create a personalised listening experience based on the results of the MySound test. As a result, sparse tracks like Lily Allen's "Apples" stay intimate, yet with a lovely sense of space much more reminiscent of larger, over-ear headsets. Soft vocals, finger-picked guitar chords - the tenderness is all there. Meanwhile, if it's bass punch you're after, the Elite 7 Pro's definitely come to that party too. The bass-line driving the almost manic "Dynamo of Volition" by Jason Mraz is bordering on frenetic, yet every note thrums through in all its frantic glory.
What's more, Jabra has completely re-engineered the mic setup; it's a 4-mic array complete with VPU bone conduction sensors that take over in windy conditions to ensure about the clearest voice quality you could ask for on your calls when you're out and about.
Active Noise Cancelling is another area that can be somewhat subjective and again, many critics are determined to find some kind of scientific metric with which to rate one system over another. As far as I'm concerned, again the ANC on the Elite 7 Pro's is first-rate. I was out running today when a kid fell off his bike right in front of me and started screaming. I never heard a thing as I ran right past.
(Hey, don't judge me - his parents were with him. I'm not completely heartless)
Then, when I got home, Domestic Manager was calling out to me from our second-storey balcony and I never heard her either - not until I looked up, anyway. She was annoyed. I was impressed. This ANC definitely does the business.
Like I say though, with each new pair of earbuds I try (and yes, only this morning, a package containing another two sets landed on my doorstep) the single thing that sets the truly great from the rest is how they fit.
To begin with, the Elite 7 Pro's are more compact than ever; 16% smaller than their Elite 75t predecessors. Apart from anything else, this makes them the most subtle-looking buds I've worn too, hardly protruding from my ears at all. Smaller also means lighter and the balance once inserted borders on weightless.
Jabra claims to have scanned more than 62,000 ear holes in order to refine the shape and my fear was this more intrusive design may feel weird and uncomfortable but quite the opposite is the case. Because the weight is more evenly distributed, the sensation is almost as if you aren't wearing them at all - even after hours of listening.
You can also confirm you're using the right sized eargels with the MyFit test in the app. Again, these are the best eargels I've tried so far - very difficult to swap out as they are a tight fit on the earbuds themselves but the tapered, rounded shape and soft, flexible material create an almost airtight seal which dramatically enhances both noise cancellation and bass response. What's more, they just don't move. At all. No matter if I'm running, working in the garden or vigorously nodding my head to give Domestic Manager the impression I'm listening to every word she says, these puppies stay firmly in place until I pluck them out.
Don't let my use of the phrase, "Airtight" put you off - there's none of that in-ear claustrophobia some people complain of. The Jabra engineers have included "frequency-dependent pressure relief vents" to ensure that simply isn't an issue and as a result, comfort reigns supreme.
As I sit here listening to the the remastered, deluxe version of the Rolling Stones' "Tattoo You" in all its glory via Apple's lossless audio stream, I hear every high-hat clash and feel each bass drum thump Charlie Watts performed, like he was still alive and kicking and in the room with me.
In terms of controls, Jabra is a bit of a lone ranger, still opting for physical buttons on each bud as opposed to the invisible, capacative controls other manufacturers seem to prefer. Personally I feel reassured by having a button that's definitely pushed or not - each fully programmable via the app of course.
Although pricey, at NZ$319.00, this actually places them below several other competitor products with similar features so it becomes a question of priorities. Perhaps there are earbuds with better battery performance - but not many. Would a purist rate these as the finest examples of hi-fidelity reproduction available? No, but I don't have a degree in audio engineering so I don't really care. Same goes for ANC - if it's good enough to drown out the sound of my robot vacuum cleaner operating in the same room, what more do I need?
My priority is fit and as of today, that's where the Jabra Elite 7 Pro comes in at number one.