LOCK YOURSELF UP SMARTLY
Author

Publish Date

Tue, 17 Mar 2020, 7:23am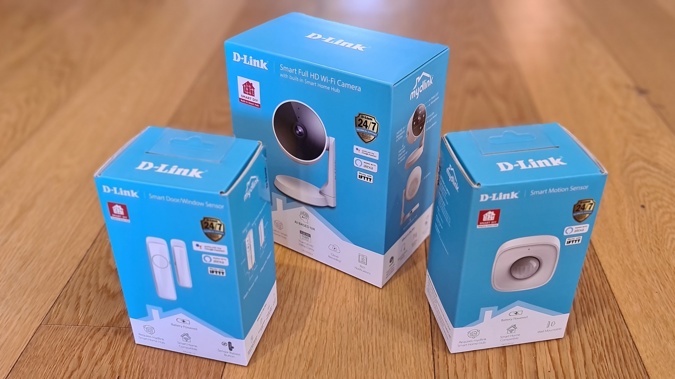 LOCK YOURSELF UP SMARTLY
Author

Publish Date

Tue, 17 Mar 2020, 7:23am
There are two general options when it comes to home security; do it yourself or pay someone else to do it.
Here's the problem... or actually, here are the problems...
Paying someone else to do it is obviously way more expensive and you can easily end up being talked into installing a lot of over-the-top equipment that is too complicated for you to use.
Doing it yourself?
Yes you can shop around for different devices that will meet all your needs - and your budget - but does that mean wiring? Drilling? Pairing? And trying to get different gadgets from different manufacturers to work in unison for a complete home security solution can be a nightmare... sometimes even impossible.
Helpfully, D-Link has bunged a few useful bits in a box for you...
The Smart DIY Security Bundle (DCS-8331KT) includes the DCS-8330LH Full HD Camera, the DCH-B112 Door/Window sensor and the DCH-B122 Motion Sensor. That might not sound like much but it actually offers a surprising amount of smart home security functionality.
The key to this is the DCS-8330LH camera, by itself a great security cam but it also serves as Smart Home Hub, to which you can add other Smart DIY devices. Obviously this is the device to set up first, which - as is now standard for all D-Link devices, involves a few quick steps guided by the mydlink app. Basically, scan the QR code, enter your WiFi password and you're in business.
The camera is small, light and comes with both stick-on and screw-in mounting options. It can be rotated and swiveled to face almost any direction and you have the option to invert the image once up and running if you want to mount it on the ceiling or underneath a shelf.
In fact, when it comes to options, the DCS-8330LH camera offers more than ever before; great HD 1080p picture day or night, time stamp and a variety of recording options (microSD, cloud or ONVIF). You can monitor several user-specified zones at once, detect when specific boundary lines are crossed or you can set up a special Priority Zone and be notified when someone moves in or out of it. Like other D-Link security cams, the DCS-8330LH has a microphone for sound detection too - very versatile indeed for such a small device.
Which makes the next step all the more surprising. The camera has a D-Link Smart Home Hub built in, so any Smart DIY devices you add don't need to be connected to the WiFi at all - they all run through the camera, taking the pressure of directly managing extra traffic away from your router. One such Smart DIY gadget is the DCH-B112 Door/Window sensor, a two-piece magnetic switch that can notify you when a door or window is open or closed. It can also be used to turn lights on and off, set off alarms or trigger recordings from connected cameras. If you have a cupboard you wish worked like the fridge - you know, open the door and the light comes on - this sensor can literally make that happen. It happens pretty quickly too - virtually no lag as the message is relayed through the D-Link hub and WiFi router.
The DCH-B122 Motion Sensor is fairly self explanatory and like the door/window device, works consistently and quickly. It's very small and can be stuck or screw-mounted practically anywhere. Both these sensors are Alexa, Google Assistant and IFTTT enabled, so if there aren't enough automation options available to you via the mydlink app, or you want to control a different kind of smart device, there's nothing stopping you.
Both sensors are battery powered, claiming up to two year's battery life and you can track how much charge is left via the app. No wires means super easy installation - and that's really the whole point of this bundle; whether you choose to stick on or screw mount, the only cable required is a simple microUSB power lead for the camera/smart hub unit.
Between that great indoor security cam and the two sensors, you can protect a lot of territory, either by recording video, sending rich notifications, sounding a siren or activating any other compatible smart plug, light or appliance.
It's easy, streamlined, and great value at just $349.99 for the whole box. Not much to pay for peace of mind security you can do yourself. 
Click here for more information and pricing on the D-Link Smart DIY Security Bundle.