IT DOESN'T GET MORE ULTRA THAN THIS
Author

Publish Date

Fri, 13 Mar 2020, 8:10AM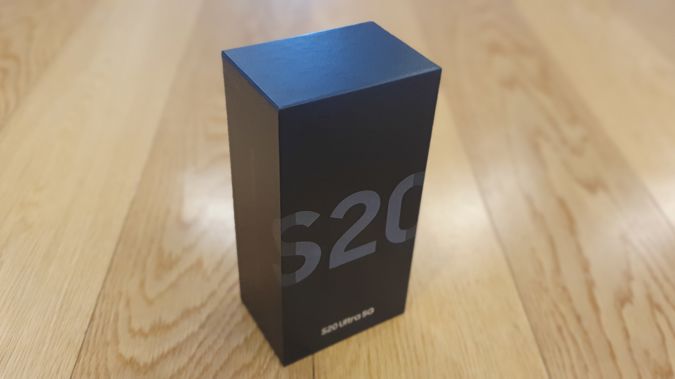 IT DOESN'T GET MORE ULTRA THAN THIS
Author

Publish Date

Fri, 13 Mar 2020, 8:10AM
It really is the time of year I look forward to the most.
Oh sure, Christmas is nice. The food and drink. Hanging out with the family. The presents.
And birthdays are okay, I suppose. But the older you get and the more of them you have, the less okay they get. And fast.
No, the special day I'm talking about is when I get to unbox the latest Samsung Galaxy phone.
After few years of my favourite phone getting a bit better every generation, but really staying more or less the same, the Samsung Galaxy S20 Ultra 5G is pretty different. I mean, just look at it.
There's no escaping the fact that camera module is huge. In fact, this is not a small device in any way. Until now, the S-series Galaxies have usually been the more refined, sleek and curvy handsets, while the Galaxy Notes lean more towards the super-functional, industrial look.
The S20 Ultra pretty much blows that theory out of the water. Sure, it still curves in all the right places, although the 6.9" Infinity-O display doesn't fall away quite so quickly at the edges this time round, giving us more control over things like scrolling and Edge Panel shortcuts.
Yes. That's right. A simply enormous 6.9" display with just the tiniest single punch-hole for the forward-facing camera, this year placed in the centre, which is possibly slightly less distracting than the corner punch-hole on last year's Galaxy S10. The screen is sublime. Increase the refresh rate from 60Hz to 120Hz and it gets even sublimer. Operations become smoother, gaming and video clearer. The settings menu warns the higher refresh rate will cost you some charge but the drain wasn't as bad as I was expecting. This is probably due in no small part to the S20 Ultra's upgraded battery, which is definitely no small part.
Samsung have thrown the kitchen sink at this device, with a 5000mAh battery, one of the biggest you'll find in any phone. This charges surprisingly quickly, with the right high speed charger and of course wireless and reverse-wireless charging are basically standard on Samsung's flagships now. Galaxy phones aren't usually known to be the most economical when it comes to battery life and despite the S20 Ultra's oversized cell, it still isn't the best I've used in this department, no matter which refresh rate I run it at. But to be sure, there's still plenty of gas left in the tank by the end of the day.
Apart from the display, that battery is running a lot of other high-end gear. The very latest and fastest processor of course, teamed up with a 5G modem. Again, just a reminder, not many phones are 5G capable in New Zealand, so if you're wanting to connect to the new network, bear that in mind. 12GB of RAM is probably overkill (or future-proofing, whichever way you look at it) but I feel like 128GB of internal storage is a little on the stingy side given the real hero feature of this phone; the cameras.
From time to time other manufacturers have made certain phones all about their photo performance but I think this is the first time I've seen Samsung make the launch of a device so camera-centric. For sure, Samsung's flagships usually sport some of the best photography options going, it's just that this year, they've really gone over the top.
The selfie cam is a very nice 40MP shooter with a decent 80 degree Field of View, ensuring group selfies fit just as well as solo shots. But it's that rear-facing setup that's just so insane. Ultra-wide, wide-angle, telephoto and DepthVision(Time of Flight) lenses all add up to a four-pronged camera attack that is surely the most comprehensive Samsung has offered to date.
The periscopic telephoto configuration combined with a stunning 108MP main sensor adds up to previously unheard of zoom options. The 10x hybrid-optical zoom is amazingly clear and detailed. What's more, you can actually zoom in 100x digitally if you want. Yes, these images are pretty grainy and without a tripod or ledge to lean on, very difficult to get a steady shot - but let me tell you, you can see things through this camera you can't make out with the naked eye. No wonder Samsung refers to this functionality as Space Zoom. Even 30x shots are perfectly usable, this really is quite ground-breaking stuff for a phone camera.
I'm not a massive video-taker but even I'm impressed you can shoot in 8K, although I'm not sure where I'd play that footage? More useful is the tracking auto-focus and the easily accessible Super Steady mode, allowing even a total amateur like me to shoot decent action sequences. Oh, and if you like it artsy, there's the same bokeh effect to blur the background in your video, just like we all like to do in our portraits these days.
Night mode is so clear and offers impressive detail and colour reproduction in low light conditions but perhaps the most ingenious photo feature is a new option called Single Take. Line up your subject, push the button and the S20 Ultra clicks off a simultaneous selection of pictures and videos over a few seconds, presenting you with a whole range of shots to choose from - even boomerangs. The phone chooses the one it likes best, or you can save them all. Mayber you prefer the wide-angle shot... or the one with the black and white filter. It's a brilliant way to get the most out of all these zoopy-doopy lenses.
In-display fingerprint sensors have quickly become the norm. Samsung have moved theirs further up from the bottom of the S20 Ultra, making it far more accessible when holding the device in one hand. It works much faster and more consistently than on the previous model which is a relief, because there's nothing more frustrating than having to use a boring old pin to get into your flash phone.
Face unlock has also improved and now works in both portrait or landscape, although not that well in the dark, even when I've selected the setting that brightens the screen. I can't rule out the possibility my face gets unrecognisably scary in the dark, so it might not be all the phone's fault.
Samsung's One UI, based on Android 10 is now my favourite operating system by a considerable margin. Dark mode options, rotating home screen, streamlined - it has everything I want and not much fluff I don't.
This is one of those phones that simply has every option packed into it, even things you didn't know existed and would never have thought to ask for. Mind you, when you're paying over two-grand you'd better be getting all the bells and whistles. With the S20 Ultra, you most certainly are.
Shame about the size. It is truly enormous and pokes out the top of even my deepest pants pockets. The payoff is a genuinely cinematic performance from that massive, beautiful display, enhanced by some decently powerful, well-tuned stereo speakers.
But I can't deny there's an elegance missing here that used to be hallmark of Samsung's previous S-series flagships. That's not to say this isn't a beautiful phone, but this year that beauty is to be found in sheer performance rather than just looking pretty.
Click here for more information and pricing on the Samsung Galaxy S20 Ultra 5G.