COULD THIS BE THE PHONE YOU FLIP OVER?
Author

Publish Date

Mon, 13 Apr 2020, 12:03PM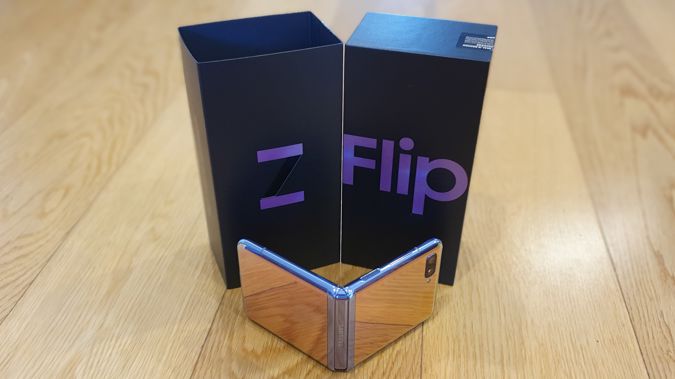 COULD THIS BE THE PHONE YOU FLIP OVER?
Author

Publish Date

Mon, 13 Apr 2020, 12:03PM
Okay, this is getting ridiculous.
How much smartphone do your really need? And how much are you prepared to pay?
More processing power. More battery life. More and more and more cameras. Definitely more features than anybody ever dreamed of or asked for.
Now manufacturers are paying the price for all their over-the-top innovation. Recent statistics show people aren't replacing their phones as often as they used to. Why would they? If it cost as much as a second-hand car and does more than you actually needed it for in the first place, it's hardly surprising they're going to try and get two or three years out of it rather than one or two.
But if something genuinely different came along... and the price tag wasn't too over-the-top... that might be an upgrade worth considering. Right?...
It looks like foldables are here to stay, for this year anyway. I've tried phones that unfold into tablets, with screens on either the inside or out. The Samsung Galaxy Z Flip is different again; instead of folding out to get bigger, the Z Flip folds up to get smaller.
I'm going to include a few more pictures than usual in this review because I'm not sure I can convince you how useful I've found this device to be just by describing it to you.
However, I'm going to start with a few things the Z Flip doesn't have, because if these features are dealbreakers for you, there's really no point getting too carried away. First up; cameras. Given the last Samsung device I reviewed was the Galaxy S20 Ultra, most phones are going to struggle to compete on the camera front. The S20 Ultra has just about every possible lens and photo feature packed into it, offering pretty much unrivaled zoom and wide-angle options, as well as excellent low light and video performance. The Z Flip just doesn't have a lot of that stuff. The cameras are great, don't get me wrong. They're just not the greatest. There are a couple of unique photographic tricks up its sleeve I'll get to shortly, but if you're looking for the best phone camera on the market, the Z Flip isn't for you.
Then there's battery life. Again, there's plenty - just not the most. In fact, I was pleasantly surprised how much power-economy Samsung manages to squeeze out of the 3300mAh battery, which by recent standards is actually pretty small. A full charge seems to be enough to get me through most days, depending on how much video content I'm watching. Generally I'll pop it down on one of my wireless chargers for a while if I can though, just to be sure it'll last me till bedtime. Strangely, my wireless car cradle doesn't charge the Z Flip which seems weird, given it's a genuine Samsung charger but maybe it's just a little out of date or something. There's a Type-C fast charger included in the box and I've certainly had no issues with the time it takes to top up. But if you're looking for a phone with a two-day battery life, the Z Flip isn't for you.
The one that really has me confused is the processor. The Z Flip has plenty of storage; 256GB, although no expansion slot for a microSD. It runs plenty of RAM; 8GB but oddly, for a phone in the super-premium price range, it doesn't use the latest generation CPU, but the slightly older Snapdragon 855 Plus. On the bright side, that doesn't seem to matter at all. I honestly encountered no lag, stutter or pauses, everything seemed super smooth and slick. There's a big "but" here though; no 5G support. If you're wanting to jump on the 5G network as it rolls out around New Zealand, the Z Flip isn't for you.
Oh... and if you're someone who regularly drops your phone in the sink, the toilet or just onto the ground, the Z Flip isn't for you either. There's no water/dust IP rating here and why aren't you looking after your phone better anyway?
So let's move on to what's great about this phone... which is pretty much everything else.
Let's dive into the benefits of that folding screen, as I assume that's basically why you've read this far. The whole point of the Z Flip is a phone that is half the size when you're not using it. It's as simple as that - and it works. Yes, it conjures up rosy memories of those old push-button flip phones from decades past but the Z Flip has moved on much, much further than that.
The dynamic AMOLED display is miraculous, very tall and narrow indeed with an unusual 21.9:9 aspect ratio when unfolded. (Basically two squares on top of each other) This is surprisingly satisfying for viewing widescreen(cinema format) video. Yes, like the Galaxy Fold before it, there is a visible seam in the centre you can definitely feel but unless what you're watching or looking at has a lot of solid white content you hardly ever notice it. In fact, like most Samsung flagship screens, the colour, contrast and detail is outstanding, with very few reflection issues. 
It's a little strange going back to a device with such prominent bezels but presumably that's unavoidable at this early point in the evolution of folding screens. I certainly had no issue with the Hideaway Hinge while using the device - It seemed robust, secure and stayed relatively free of any dust or obstructions. In fact, that's the other obvious advantage of folding your phone away in your pocket; the screen is safely tucked up tight, protected from scratches and the like. There's a two-piece, clear case included in the box to protect the outside too - a pretty good idea, especially if you've gone for the oh-so-pretty Mirror Purple instead of boring old Mirror Black.
The Z Flip's greatest trick is that it is its own tripod. (Pretty sure that sentence makes sense. Pretty sure...)
Because the Hideaway Hinge is firm enough to hold the phone open at a variety of angles, it's the ideal device for hands-free video chatting - an indispensable feature in this current age of working-from-home. That also means group selfies without a selfie-stick and the Z Flip's night shooting modes are greatly enhanced by the fact you don't have to hold the phone steady for those long-exposure shots - you can just stand it on a table or a ledge. It sounds like a basic concept but we've all been in a situation where we've tried to balance our phone on something precarious to try and capture that perfect selfie; the Z Flip now makes that so easy.
There's even a tiny second screen on the outside of the device, next to the camera lenses - and I do mean tiny. In fact, it's so small, I don't fully understand the purpose of it. It displays the time, date and remaining charge, which I suppose is useful to a degree. It also shows notifications you can swipe to preview, as long as you've got your reading glasses on. It will even let you take a selfie with the phone closed, showing a tiny little you on that tiny little screen. Not really sure how helpful any of that is, when you can just open the handset to see it all properly but it's there if you want it.
In terms of how usable the Z Flip is as a phone, I love it. Samsung's One UI is probably my favourite operating system with it's full featured, no clutter presentation and as I mentioned earlier, there's more than enough processing power, memory and storage to keep the Z Flip whipping along. I was a bit disappointed at the lack of stereo speaker set-up I've been so impressed with on other Samsung flagships but I certainly had no issue with the sound experience via bluetooth headphones or earbuds and like I say, when it comes to gaming or movies, it's hard to beat that extra-wide aspect ratio.
The $2399 price tag may seem steep but compared to other high-end flagships with similar specs, I actually think it's in the ballpark. In fact, it's drastically cheaper than other folding phones I've reviewed - even though it might be the most practical one yet.
Click here for more information and pricing on the Samsung Galaxy Z Flip.