All Charged Up and Going Places
Author

Publish Date

Wed, 13 Jul 2022, 12:34pm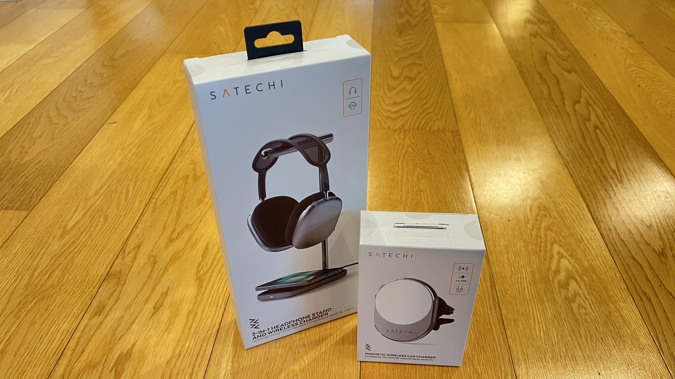 All Charged Up and Going Places
Author

Publish Date

Wed, 13 Jul 2022, 12:34pm
I am a wireless guy.
In fact, it's become a bit of an obsession. My first smartphone wasn't an iPhone. It wasn't a Samsung Galaxy. It wasn't even an Android. It was a Nokia Lumia running Windows Phone OS. What can I say? I was new at this then. Good camera though. A bit ahead of its time even.
Even more ahead of its time was its wireless charging capability.
Yep; a million years ago I owned a weird phone that could charge without a cable. Sourcing an actual wireless charger to do it with proved a bit of a challenge but eventually I did find one and the rest, as they say...
Except, it took a weirdly long time for the wireless charging thing to catch on.
I kept saying to people, "What are you doing? Fiddling around plugging in and unplugging that cable? Get with the programme! The future is now! Go wireless, baby!"
Those people would generally smile and nod. Then walk away super quickly.
Even when I got my first Galaxy, I soon discovered you could remove the back and insert a wireless charging pad. That was a good day.
Of course it wasn't till Apple started doing wireless charging that everybody finally realised what they'd been missing out on. Then, in Apple's usual style, they went one better and added magnets into the equation as well.
What a time to be alive...

Satechi prides itself on manufacturing tech accessories that are not only functional but are also stylish and elegant - an especially good fit alongside the Apple devices so many Satechi products have been specifically tailored for.
The 2-in-1 Headphone Stand with Wireless Charger is a classic example - in fact "classic" is an appropriate adjective; from the high-gloss charging base to the gleaming stainless steel stand itself, this device can't help but add a touch of class to your desktop.
As is usually the case with any Satechi product, functionality meets aesthetics - starting with the rubberised recess in the top of the stand to keep your headphones free from wear and tear (and securely in place). There's also a subtle hook halfway up the stand to help wind cables out of the way - that's if there are any cables of course.
If you like to charge wirelessly like me, you may also prefer a wireless headset. The 2-in1 Headset Stand is ideally set up for this as it has two USB-C ports at the rear of the base - one for the power cable and one for a charging cable out. This makes it a tidy and convenient place to put your headset down to charge.
The wireless pad on the base is your other charging option obviously. While this is actually a magnetic pad to support MagSafe handsets from the iPhone 12 and 13 ranges, it'll charge other phones too - not to mention earbuds if their cases also support wireless charging.
MagSafe is probably a bit of overkill here - unless you're prone to sweeping your phone off your desk with extravagant hand gestures perhaps.
Overall, this is a simple device but expertly and beautifully executed. I do wish Satechi included the 20W power adapter in the box however, especially given Apple no longer includes power pricks with its iPhones either. 

That's my major criticism of the Satechi Magnetic Wireless Car Charger too - no power included. In this case its the USB-C car charger that's missing. Obviously Satechi would argue you might already own compatible power adapters and car chargers so you're effectively saving money by purchasing these products without them. Satechi sells them separately of course - luckily I did indeed already own the required hardware.
Other than that, the Magnetic Car Charger is definitely my kind of device; it's as stripped back and as minimalistic as it can possibly be. Not only is it extremely slim, because it is also MagSafe compatible, when your iPhone is attached to it, you can't even see it. Invisible gadgets rule.
There is a slight issue, however.
The air vent mounting system features a cunning three-pronged padded clamp to securely hold the charger (and your phone) in place... as long as the fins on your air vent run horizontally. In my car those fins are lined up vertically. That means the clamp has nothing to rest on and simply pulls out with the slightest bit of weight.
All is not lost though. The ball-and-socket system at the rear of most car phone cradles is pretty universal. Up to this point my previous car cradle was stuck to the windscreen - not my air vents - and I was able to use that mount instead. I'm surprised Satechi hadn't thought this through but I'm more than happy with the final result.
If you are green with envy because you don't have a groovy MagSafe phone like mine, don't stress. Satechi also sells stick-on magnetic patches for non MagSafe devices. (You can even buy them from the Airpoints store!)
While it's true neither the Satechi Headphone Stand or Wireless Car Charger are totally unique, I'd challenge you to find a comparable product that does the job in such a classy way - and you might find they're not as expensive as you think.
Click here for more information on the Satechi 2-in-1 Headphone Stand with Wireless Charger.
Click here for more information on the Satechi Magnetic Wireless Car Charger.