A Vacuum Worth Putting On Display
Author

Publish Date

Wed, 11 May 2022, 5:43pm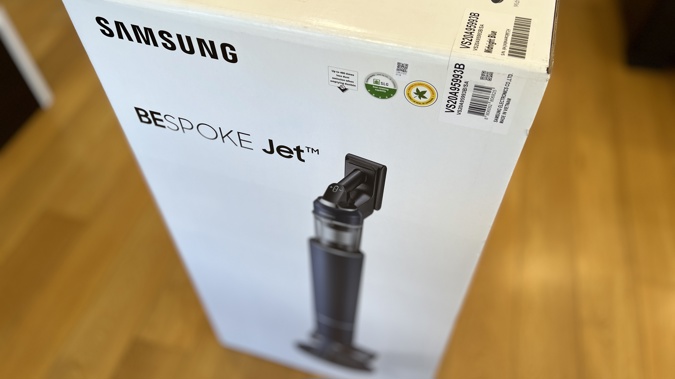 A Vacuum Worth Putting On Display
Author

Publish Date

Wed, 11 May 2022, 5:43pm
I'm starting to feel like I'm living through some kind of global vacuum cleaner renaissance. It seems there's a new and improved way to vacuum almost every week. 
While it's fun to let the robots take over - and who doesn't love a good selection of attachments - there still aren't too many vacuums out there people would be happy to... leave out there. You know; on show in the room with you, instead of locked away in a cupboard.
If you think I'm kidding, get a load of this...

The Samsung Bespoke Jet Elite Extra is a long name for a vacuum but this is a cleaner with a lot going for it - starting with, yes, a look.
Samsung has a whole new range of "Bespoke" home appliances, which in most cases basically means cool colours, unusual finishes and unique design. For instance, the fridges now offer you a choice of "Cotta Metal" or "Glam Glass" in colours like Charcoal, White, Navy and Glam Pink. Stainless steel is so last decade apparently.
In the case of the Bespoke Jet Elite Extra stick vacuum, here in New Zealand your choice of colour is blue, blue or blue, no sign of the Misty White or Woody Green available in other regions. To be strictly accurate - neither the vacuum, its accessories or the Clean Station are totally blue - it's more of an accent colour combined with other elements of silver and dark grey. However, the overall design is inarguably pleasing to the eye - especially when the vacuum is docked in its station. This is due to the fact the Clean Station (which is also a charging station) is effectively just a tall cylinder suspended above a slightly wider base. When nestled in place, the Bespoke Jet itself is mostly obscured by the station so it doesn't really look much like a vacuum cleaner at all - more like some kind of high-end speaker or perhaps a crazy lamp.
And unlike most other stick vacuums, you won't lose any wall-space when you hang it up to charge - not much floor space either for that matter... well... there's a slight catch. The Bespoke Jet Elite Extra is both Elite and Extra because of the sheer number of accessories included in the box.
Perhaps the most important of those accessories is the Accessory Cradle itself. Not only does this store up to five separate attachments at once but it also charges a second battery. That requires a second power point and somewhere to put it all. Meanwhile, there's a carry-handle on top so you can unplug the whole cradle and bring all five accessories and the spare battery with you while you clean. Overkill? Perhaps, but then that's kind of what this vacuum is all about.
Let's get back to the Clean Station before we discuss the Bespoke Jet itself. As the name indicates, the Clean Station is not just a groovy way to store and charge your vacuum. Existing owners of the previous model Samsung Jet 90 pet stick vacuum will be aware of the optional Clean Station that can be bought to keep the emptying process totally touch-free. This stand-alone Clean Station works almost like a second vacuum cleaner, although you have to physically remove the dustbin from the Jet 90 pet then place it in the top of the Clean Station where it is sucked empty in a matter of seconds.
By combining the storage/charging dock with the Clean Station, the Bespoke Jet Elite Extra refines this process considerably. Now you can empty the vacuum any time you hang it up - much the same way a robot vacuum with an automatic-emptying station works. This all happens with the push of a button, sucking the contents of the dustbin down into the much larger, easily disposable bag in the Clean Station itself. Therefore you avoid the dusty, dirty process of emptying the bin into your rubbish yourself - although you will eventually have to give the dustbin and its filters a good rinse out at some stage.
In fact, the Bespoke Jet will let you know when that maintenance is required, via the clear and bright LCD display just above the handle. This is where you will usually see how much charge is left and what power setting you're using; Low, Mid, High or the intriguing Jet setting. This last is perhaps the strongest suction I've ever experienced from any kind of vacuum cleaner, making it a genuine effort to push the Bespoke Jet over carpeted surfaces. You certainly wouldn't want to vacuum the whole house at that level - you might suck yourself into another dimension. It also slays the battery life - you'll only get about eight minutes of Jet vacuuming versus twenty-four minutes when set to the default Mid which is perfectly sufficient for most areas and surfaces.
That said, as I've already noted, you do get an easily swapped-out extra battery in the box so available charge should never really be an issue.
Another fairly unique aspect of the Bespoke Jet is its extendible, telescopic pipe. Those old-fashioned vacuum cleaners like Mum had could sometimes be extended out for the comfort of taller users but for some reason, this just hasn't been an option on non-Samsung stick vacuums. I wish I could replace the Bespoke Jet back into its clean station while still telescoped out but unfortunately it only fits when fully retracted. Life is so hard sometimes, isn't it?
Right, let's run through these attachments; the motorised Jet Dual Brush combines a soft roller for hard floors with nylon and rubber bristles on the main brush that rotate at 4,000rpm. This seems to do a fine job on all my floor coverings - from wood to carpet to rugs - and I've been impressed with how little hair ends up wound around the main brush. It's also easy to take apart and reassemble if it does get clogged (you'll get a warning message on the LCD screen if this happens). There are two other brush heads - firstly the Slim Action Brush which only has a fluffy roller (with anti-static silver) specifically for hard floors. The joint assembly where this flatter head connects to the main tube is slightly more flexible so you can manoeuvre more effectively under furniture and into tight corners. Like the Jet Dual Brush though, it is still spring-loaded to present its attaching end up at a convenient angle. Don't you just hate bending down unnecessarily?
The other motorised brush head is the much smaller Pet Tool - ideal for duvets, furniture and car interiors.
In the box you'll also find the fairly standard Combination, extendible Crevice and Flexible tools, along with a couple of extra dust bags for the Clean Station.
Much less standard is the Spray Spinning Sweeper - another evolution of an optional accessory for the Jet 90 pet that's now included in that very big box. This head simply rotates your choice of two disposable wet cloths or reusable (and much better for the environment) anti-bacterial microfibre pads - at about 260rpm. There's no suction involved here - this is strictly a mopping operation only, albeit a pretty low-effort-required one. Especially given the option of spraying a little extra water on stubborn marks via the small Easy Clean Bottle inserted in the mopping head itself. The Bespoke Jet automatically changes to Wet mode when you attach the Spray Spinning Sweeper which means you can't suck but you can spray water by pushing the + button. This didn't actually work when I first tried it but by following the troubleshooting guide in the manual, I was able to purge the air in the line by operating the spray function without the water bottle in place. Everything functioned perfectly once I reinserted it. Does a great job too - those doggy paw prints are polished away in no time and the floor dries nice and quickly with no streaks.
In short, this is a hell of a package. Easily the best looking vacuum cleaner I've ever seen, perhaps the strongest suction I've ever experienced, with enough battery reserves to handle even very large homes. The Clean Station is literally a breath of fresh air and the selection of accessories included in the box is comprehensive to say the least; making mopping easy is a big tick in my book - especially with Winter and a wet dog on the way.
Not everybody would be prepared to shell out NZ$1799.00 for a vacuum cleaner but if it's in your budget, this one is about as feature-packed as it gets.
Click here for more information on the Samsung Bespoke Jet Elite Extra stick vacuum.