Standing ovation for Harry and Meghan as they near final royal engagement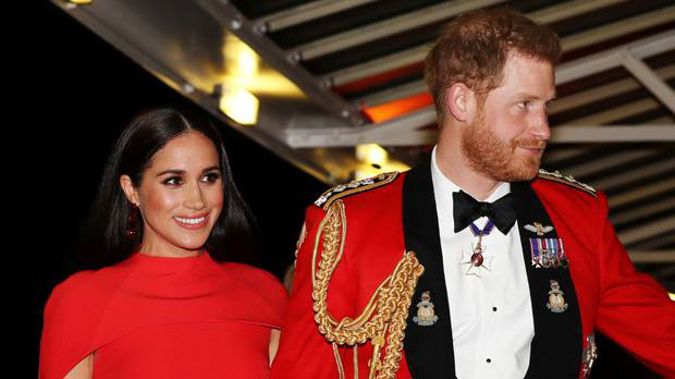 Standing ovation for Harry and Meghan as they near final royal engagement
The Duke and Duchess of Sussex have stepped out again in colour-coordinated ensembles for their final round of royal duties.
Last night Harry and Meghan attended the Mountbatten Festival of Music in London.
Harry, who attended the event in his role as Captain General of the Royal Marines, wore his dress uniform while Meghan wore a $2700 Safiyaa dress.
The pair received a standing ovation and long applause from the crowd as they took their seats. 
The Duke and Duchess of Sussex were out in force last night when they attended the Mountbatten Festival of Music at the Royal Albert Hall. Photo / Getty Images
The event celebrates world-class musicians, composers and conductors of the Massed Bands of Her Majesty's Royal Marines - and was one of the couple's final public engagements before they step back as senior royals
Earlier this week they attended the Endeavour Fund Awards at London's Mansion House Friday in matching blue outfits.
The couple attended an awards ceremony to honour injured service personnel in London on Thursday, braving rain in the UK capital and cheering as an attendee proposed to his girlfriend in front of the pair.
That event marked Meghan's first appearance in the UK for weeks. The Duchess has spent most of the year in Canada, where the couple are expected to move when their roles as senior royals officially end on March 31.
Harry and Meghan arrived at the Endeavour Fund Awards to cheers from supporters -- and at least one audible boo -- entering the venue under an umbrella.
Brolly good show: Outside the Endeavour awards. Photo / AP
During the event, Harry said he was "proud" to serve the Queen.
"Meghan and I are so happy to be back here with you," he said during his speech, before he and his wife handed out awards.
"Being able to serve Queen and country is something we all are rightly proud of, and it never leaves us. Once served, always serving," he added.
Harry also paid tribute to the service personnel in attendance. "Leaving the military and hanging up your uniform is, we know, an incredibly hard thing to do," he said. "But being forced to hang it up due to injury, beyond your control, can be even more difficult to accept."
"It can take time and effort to recognise the fact that it is something that happened to you, rather than something that's wrong with you -- so please don't ever forget that."
The Sussexes are currently carrying out their final engagements before they step back as senior royals on 31 March.