Frances Cook: Dildo no substitute for reasoned debate
Author

Section

Publish Date

Monday, 8 February 2016, 10:01AM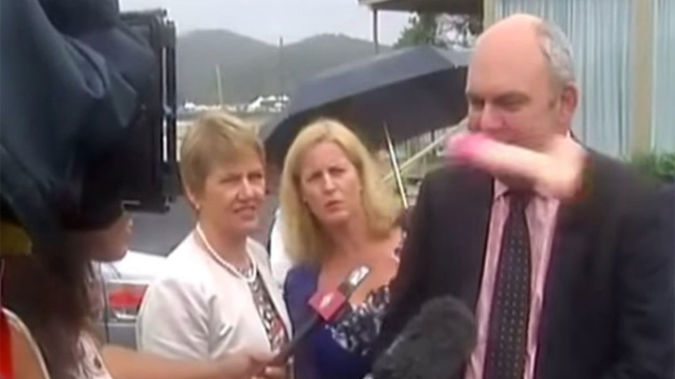 By now I'm sure you've seen it. Steven Joyce being interviewed by a group of reporters, when a large rubbery dildo flies through the air and slaps him across the face. To add to the comedy, it bounces off the chest of a female reporter, before falling to the ground. Everyone around them winces.
It's hilarious. New Zealand politics at its weird best, and the rest of the world lapped it up. News outlets have covered it in Germany, India, the U.S., Denmark, and Canada.
@AMidnightVoyage @bootstheory pic.twitter.com/6apUqJl7h7

— punyweakling (@punyweakling) February 5, 2016
Myself and fellow reporters repeatedly fell about in fits of laughter as we tried to write the story. Steven Joyce came to our table and we showed him that someone on social media had turned the moment into a GIF. The rubber penis slapped him in the face on loop, his eyes blinking shut in surprise. He guffawed and declared "well yes, that's quite funny isn't it".
But pause the laughter for a moment, as hard as that is (no pun intended). This is a sex toy being thrown at a senior politician. It's an attempt to humiliate, to protest the "raping" of our sovereignty by a trade deal. And it was originally intended to target the Prime Minister.
This isn't where I wax lyrical about the possibilities of a national day like in Australia. Have you seen Australians on Australia Day? Paralytic drunk, sometimes indulging in white pride marches, often getting violent. No, thank you. I have no problem with a national day where some people highlight issues they want addressed, while others opt for a family barbeque.
But throwing a dildo isn't exactly a reasoned debate of pros and cons. What better way to reassure John Key that he did the right thing in skipping the formalities, and watching the rugby instead? What better way to reassure him that the protests against the TPP aren't heartfelt worries, but loonies who hate the Government no matter what they do? You can be sure his pollsters are busy checking if he can get away with skipping next year, too.
There are genuine reasons to be worried about the TPP. It makes it possible for foreign businesses to sue our Government if a new law could jeopardise their profits, although legal action is still difficult and unlikely. It makes it difficult, maybe impossible, for our Government to stop foreigners buying houses here.
But those wanting to protest should remember what they're trying to achieve. Are you trying to humiliate a senior public figure? Take them down a peg or two, so you don't feel ignored and useless in the face of worrying public events? Or are you trying to actually convince the Government to back away from something many New Zealanders are concerned about?
Now, if you'll excuse me, I'm going to rewatch the video of our Economic Development Minister getting a rubber phallus to the face.