The Soap Box: Trump continues to be a challenge for media
Author

Section

Publish Date

Monday, 12 November 2018, 5:58AM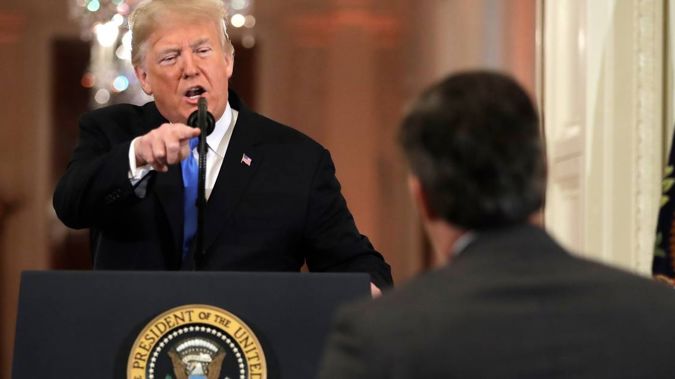 Watching Donald Trump's heated exchange with senior CNN correspondent, the appropriately named Jim Acosta, brought back chilling memories of bullying tactics in this country by a Prime Minister who was cut from the same cloth as the American President.
Rob Muldoon was forever trying to demonise the media which is generally the behaviour of leaders who don't like being asked pointed questions, usually when they know they're not being honest with the public.
Trump is all-powerful when it comes to those who are allowed to ask him questions from the White House press corp. He banned Acosta, who he described as a rude and terrible person, on the lame excuse that he laid his hands on a White House intern trying to grapple his microphone from him.
Video footage shows the "offending" hand was actually gesticulating and bumped her arm as she reached across for the mic. Doctored footage distributed by the White House, slows the action down making it look as though Acosta delivered something like a karate chop on her arm. Fake news!
Fortunately in this country accreditation to the Press Gallery is controlled by The Speaker, if it wasn't the media would have been mauled by Muldoon.
The late Prime Minister tried to get me thrown out of the gallery in 1984 when I was asking questions about his hypoglycaemic mate, the then Customs Minister Keith Allan who claimed he'd been beaten up on the way home from the Beehive, when in reality the inebriated politician had fallen into his garden, tearing his shirt on a rose bush.
"Ask another question on this," challenged the sensitive Muldoon who clearly knew the real story, "and I'll raise your accreditation with the Speaker." I did and he did.
Summoned to the Speaker's office, the extraordinarily polite Sir Richard Harrison explained that Muldoon demanded an apology for my line of questioning which I refused to give. The so-called schnapps election intervened and Muldoon had obviously forgotten the incident, as he did most things at the time, even if he did scowl "I'll be here long after you're gone, Mr Soper."
But back to the White House and earnest interns. Queuing early to be admitted to the Oval Office several years ago when John Key was visiting George W Bush, I was ordered by a very unpleasant but well-presented intern to go to the back of the line because I was foreign media and the White House press corp had pride of place.
I refused against her protests and after the audience, I was doing a live cross from the White House lawn with Leighton Smith when the intern stormed over and verbally accosted me. I told her to go away because I'm on air, or words to that effect, and she laid a formal complaint.
Fortunately, I've been back to the White House on several occasions since. Trump will be a challenge though.