The Soap Box: Brownlee enjoying freedom from diplomatic responsibilities
Author

Section

Publish Date

Friday, 9 March 2018, 7:29a.m.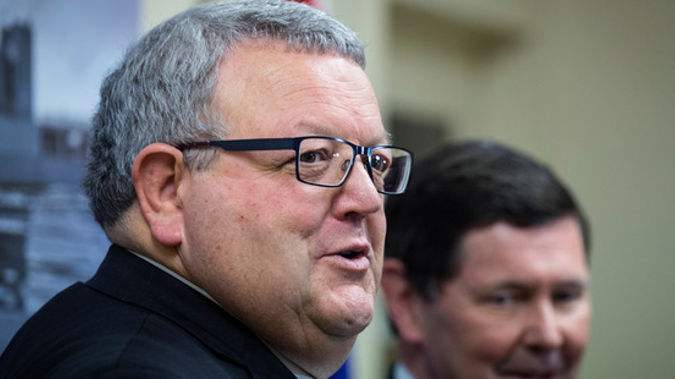 It's very warm in Rarotonga at this time of year, and it didn't surprise anyone when two MPs chose a cooler route (to swim) back from a tourism visit on Muri lagoon.
National MP, Alfred Ngaro and deputy leader of New Zealand First, Fletcher Tabuteau looked slightly less cool when a strong current had them instead cling on to the police boat manned by New Zealand Defence Force personnel.
To their credit they did swim the majority of it, while the rest of us, Prime Minister included, made ourselves comfortable on a glass-bottom boat.
Everywhere you go in Rarotonga there is somebody with a ukulele. The melody of the island follows you around, or maybe it follows Jacinda Ardern. But it sure made the delegation feel welcome. Fletcher Tabuteau felt welcome enough to attempt that swim in just his briefs.
"Do you want your pants!?" Gerry Brownlee bellowed as our boat arrived at shore. Everybody laughed. Even the Prime Minister.
It mustn't be the most fun being Brownlee on a trip like this. Watching nation after nation fawn over Ardern and shower her with gifts, and stand by as she and his replacement as Foreign Minister, Winston Peters, return the favour with another round of cash in each country.
Thirteen million dollars for cyclone recovery, $6.5 million to encourage entrepreneurship in young Samoans. A solar energy generation package for Niue. A major lines upgrade in Tonga. Better pension access for all Pacific-born New Zealanders.
There has been more than $36 million pledged to the island this week altogether.
Brownlee was introduced on several occasions as the "former Foreign Minister" and always some time after Peters. Usually, he'd be in the closed-door diplomatic talks with Pacific leaders instead of "part of the delegation." He knows what it's like to be the reason for a police escorted motorcade.
But if it stung, it didn't show. He's kept his suit and work shirts tucked firmly at the bottom of the suitcase, and donned island shirts for the duration. I think he's genuinely enjoyed the freedom of no diplomatic responsibilities.
Labour Ministers Carmel Sepuloni and Aupito William Sio were right at home in Tonga and Samoa. Proudly speaking the tongues of their homelands at official events and flexing their local muscles.
National's Alfred Ngaro, the first Cook Islander to be elected to New Zealand's Parliament looked genuinely comfortable in every scenario (except lagoon currents).
Climate Change Minister James Shaw appeared rather relieved and elated to visit countries without climate change deniers. Virtually everyone he spoke to is on board with his vision, or has high hopes for more. He even rolled up his suit pants in Samoa to walk out onto a pathway partially covered by water from rising sea levels.
The delegation of business and NGO leaders on the other hand, wouldn't stop singing. It was quite something. Even when the Cook Islanders started banging their traditional instruments over the top of them.
Ardern and her cast of 50 including media fly home tonight. While she'll be glad it means no more hot weather heel-wearing, I imagine she'll miss being asked which Pacific Island is her favourite.