The Soap Box: A shameful little scandal
Section

Publish Date

Thursday, 17 August 2017, 5:34AM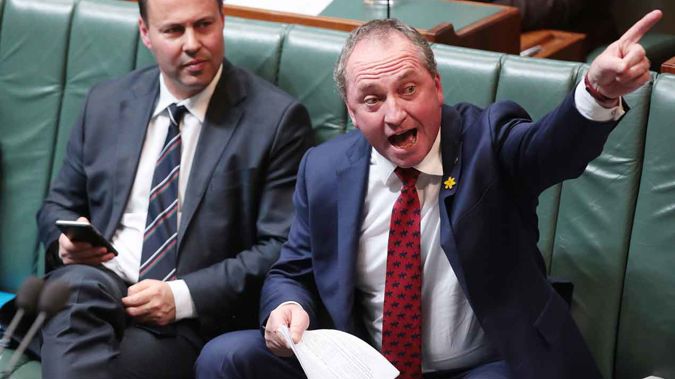 They were at it again in Canberra, ripping each other's throats out over a "foreign" country's political party undermining their one seat majority Government by attempting to expose the Kiwi citizenship of their deputy Prime Minister Barnaby Joyce.
Their ridiculous constitution prevents a person of dual citizenship from holding political office there . They want absolute loyalty it seems, and they got it in spades from Joyce who, having been born in Australia, was unaware he automatically became a Kiwi because his dad was born here. A court will now decide whether he can stay in the job and maintain the Turnbull government's one seat majority.
New Zealand Labour's Chris Hipkins inquiring about Joyce's citizenship on behalf of his former Kiwi cobber (and a mate of Jacinda Ardern's) Marcus Ganley is shameful, even if he'd have us believe the unbelievable that the pair didn't discuss who the query was about.
But the anger coming from across the ditch is purely political, it's aimed more at Labor there for indulging in the skulduggery. So should an incoming Labour government here, if that does transpire, worry? The answer is no.
Political relations in the past have been worse than sour and when they were at an all time low, in the early 80s when Rob Muldoon and Malcolm Fraser were Prime Ministers who couldn't stand being in the same room as each other, they were still able to put in place the world's freest trade agreement which has endured and grown.
So on trade at least our two country's are on a solid footing, even if Queensland seems to be currently following an isolationist trade policy contrary to the CER deal which could end up in court, and even if China's overtaken the Aussies on trade.
It's on other issues that the relationship's been foundering, like the way they treat Kiwis in their country, which ironically began with the man who seemed to be the most well disposed Aussie Prime Minister to this country, John Howard. That stemmed from Kiwi passport holders using them as a swipe card to live in Australia.
The sanctions against Kiwis living there have grown but our meek politicians haven't taken the same line with Aussies living and having access here. Perhaps that'd be an opening for Labour if it can pull it off, it certainly wouldn't be unpopular.
In the meantime it wouldn't hurt Ardern to get on the blower to quell their highly emotional Foreign Minister Julie Bishop who's cracking window panes in Parliament as she screams at her Labor opponents. She hasn't done it yet, she's waiting for the Aussie High Commission in Wellington to set it up.
But if Ardern really does believe Hipkins was wrong, she should take the initiative herself and not having Bishop's phone number isn't an excuse.