The Hunger Games: More than a Hollywood blockbuster
Author

Publish Date

Fri, 27 Nov 2015, 12:11PM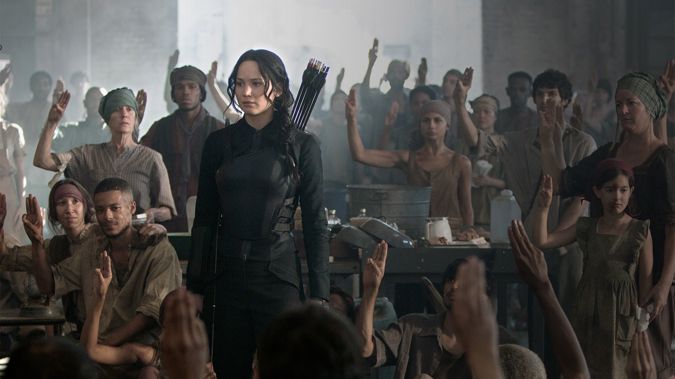 The Hunger Games: More than a Hollywood blockbuster
Author

Publish Date

Fri, 27 Nov 2015, 12:11PM
The concluding chapter in The Hunger Games franchise opened in cinemas last week. Like its readers and viewers, this dystopian adventure adapted from Suzanne Collins' Young Adult books has matured from a tempestuous adolescence into admirable adulthood.
Praiseworthy not just for promoting a strong, complex, and completely asexual woman as its hero (Katniss Everdeen, played exceptionally well by Jennifer Lawrence), The Hunger Games films have dealt with serious political and historical themes largely unseen in modern Hollywood productions.     
Superficially, it varies very little from other dystopian fictions: Metropolis to The Matrix, almost all of them end in rebellion.  The Games themselves are a cruel blend of Battle Royale and William Golding's Lord of the Flies. The vertical class structure of Brave New World is turned horizontal in the Districts (District 11 is racially segregated, the workers farming cotton and grain in what would be the American South). Atop the oppressive pile is the Capitol, arranged in a gaudy hallucinogenic vision like Terry Gilliam's Brazil.
So, if The Hunger Games is plagiarised, however successfully, from a wellspring of dystopian literature and film then what does it tell us that others do not? Could it be educational as well as entertaining?
Brush aside the romances and other narrative ornaments and there are some heavy ideas to be found, made all the more engaging for the highly accessible vehicle in which they're delivered.
In one of Mockingjay: Part 2's opening action scenes, a mountain fortress stands between the rebels and the Capitol. Rather than jump straight to the assault, we're treated to reasonably lengthy discussion between Katniss and Gael on the morality of killing civilians in advance of a cause. Katniss won't stand for any action which will endure 'collateral damage' - a poisonous term straight from 1984's Newspeak phrasebook. Gael, on the other hand, insists those inside aren't civilians but collaborator and therefore deserve to die.
This structurally insignificant but morally engaging chat evokes two ideas. Firstly, Gael's claim of complicity reminds us of populations in France and Eastern Europe who acquiesced to Nazi Occupation of their land, deporting undesirables to the camps and exterminating the rest – the most disturbing example of totalitarian power.
Secondly, events in Syria give Katniss and Gaels' parley a certain tragic prescience. In the West at least there has been some outrage at civilian deaths from airstrikes in Syria. On the other hand, the regime there has made slaughtering innocents its trademark. Russia too has little care for this kind of consideration. Moscow's bombers have killed hundreds within the last month alone.
In Part 2's climax (spoilers ahead), Katniss is called to vote with surviving Games victors on whether to have deposed President Snow killed – her declared aim throughout the film.
More than a potboiler device, this vote is grounded in historical precedent. The earliest days of the French Republic were dominated by debates, largely between Thomas Paine and Robespierre, at the National Convention on whether the overthrown monarch Louis XVI ought to lose his head on the scaffold.
Paine, addressing the assembly, urged embryonic France to be "strictly on our guard against the abomination and perversity of monarchical examples: as France has been the first of European nations to abolish royalty, let her also be the first to abolish the punishment of death."
Echoing Paine closer to our own time, the first President of the Iraqi Republic Jalal Talabani refused to sign the death warrants for both tyrant Saddam Hussein and his right-hand-man Tariq Aziz on the basis that no country should found itself on a blood reckoning.
Katniss might've followed the same example, understanding that a new Panem wouldn't indulge the same barbarism as before. But confronted with President Snow tied to a pole in the Capitol's square, her bow at the ready, Katniss changes aim and kills the revolutionary leader Alma Coin instead – revenge for the death of her sister Prim.
(A side note: Prim's death in an aerial bombing attack is deliberately constructed to evoke the kind of real-life amateur aftermath footage we've come to expect in recent years. This, in itself, is a radical move.)
Katniss' choice gives us a deeper glimpse at one of the toughest moral dilemmas any revolutionary can face: to dissent from the dogma of a cause to which they had devoted their lives. And again, this has parallels in history. For example, Leon Trotsky (alongside Victor Serge) went some way to apologise for his brutishness during the Russian Revolution by forming the Left Opposition against Stalin, a decision which earned him an ice-pick to the head.
But above all else, The Hunger Games is concerned with propaganda. Mockingjay: Part 1 is a long meditation on the subject. What is its value? Is it effective?
On the Capitol side, Ceasar Flickerman is chief Big Brother (played brilliantly by Stanley Tucci on-screen). In coiffed purple hair he parrots away, placing a glamorous carapace over the regimented slaughter of teenagers for sport. Katniss and Peeta's burgeoning romance is spun as a sultry lure for the Capitol masses. In the Mockingjay films, Flickerman becomes Peeta's on-air interrogator, an essential cog in President Snow's plan to torture Katniss via the airwaves. He is also given an opposite match in Plutarch Heavensby and his "propos" teams. They poke and prod at Katniss in order to stir up rousing speeches which can be employed as "lightning rods" for the rebellion – often against her wishes and better judgement.
The discussion in Part 1, as my fellow film critic David Larsen pointed out to me, can be read as a metafictional comment on how Jennifer Lawrence, like her character, has tried to retain a hint of honesty and sincerity amid a storm of people pushing her to become an indistinct, marketable brand.
A witty subtext no doubt. But there's also a more self-aware commentary taking place: For all the love triangles and conflicting motivations, these characters are essentially discussing what it means to be selling a powerful political idea in a pre-packaged mass entertainment film.
Of course, The Hunger Games still exists inside what philosophers Adorno and Horkheimer called 'The Culture Industry', a system which sells products in order to pacify the masses. But then again, what happens when that product ignites fury instead of pacifying it?  
In 2014, the Thai military junta arrested a number of students for displaying the now-famous three-finger salute from the films (a neat play on the clenched fist symbol). Further still, they were subject to "attitude adjustment" – a thoroughly Orwellian concept. Those students were part of a group which had bought hundreds of tickets to Mockingjay: Part 1 in order to distribute them for free, hoping that the film's message might inspire a popular revolt against the regime.
This almost makes true what Donald Sutherland, who plays President Snow in the films, hoped for. Evoking the soixante-huitard movement, he wanted The Hunger Games to stir this generation out of apathy. "Hopefully they will see this film and the next film and the next film and then maybe organise," Sutherland said. "Stand up."
Hopeful words from an old radical. But even if Suzanne Collins' brilliant little creation doesn't prompt riots against injustice, it might just get young people thinking about such high-calibre ideas. What better praise could there be?