Nigel Yalden: Ranking the World Cup's 'Departing Dozen'
Author

Publish Date

Tue, 15 Oct 2019, 9:03PM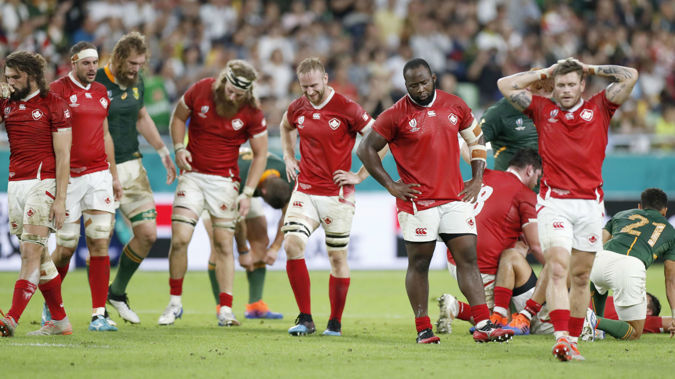 Nigel Yalden: Ranking the World Cup's 'Departing Dozen'
Author

Publish Date

Tue, 15 Oct 2019, 9:03PM
While eight teams, including the All Blacks, remain in the running to claim the William Webb Ellis trophy at Rugby World Cup 2019, 12 teams have begun the respective treks home, having been ousted at the conclusion of the pool stage.
So let's assess the departing dozen:
Pool A
Scotland (3rd) - will rue an insipid start to the tournament against Ireland and their CEO putting unnecessary and avoidable extra pressure on them ahead of a game that was their obvious do-or-die moment from the minute draw was revealed
Manu Samoa (4th) – no one denies the talent in the squad, but seven yellow cards in four games, irrespective of your view around the supposed overzealousness of the officiating in the tackle/contact area, is inexcusable given the clear guidelines as is the failure to adjust accordingly.  Their administration could learn a lesson or two off Fiji and Tonga as well
Russia (5th) - whilst clearly running out of puff in their final game against Scotland, the Russians were competitive in the previous three outings and will take vastly more positives than negatives away from this tournament, having exceeded the expectations of most in Japan
Pool B
Italy (3rd) – set up themselves for decent cracks at South Africa and New Zealand with two excellent efforts against team they should, and did, beat by a good margin.  They seemed to get stage fright against the Springboks before having their near impossible chance of reaching the playoffs scuppered by Typhoon Hagibis; a respectful end to Conor O'Shea's coaching tenure with the Azzurri
Namibia (4th) – more than satisfactory efforts against the three top ranked teams in the pool had them primed to give their final, and very winnable, match against Canada a really good go before Mother Nature intervened.  The young talent coming through would indicate that good structures are in place to provide a pathway to from age group to the full national side
Canada (5th) – regressing at concerning rate.  Hopefully the Canadians players involved in the fledging Major League Rugby will benefit from the week in week out nature of such a competition and we will see Les Rouges begin to trend upwards during the next RWC cycle
Pool C
Argentina (3rd) – looked like the toll of a long season as the Jaguares then Pumas simply caught up with this group.  Compare the Argentine approach to that of Jamie Joseph, whose key players either didn't play or were used very rarely by the Sunwolves this Super Rugby season.  That said, they should have secured that comeback win against France and as such, it's disappointing not to be talking about an impending quarter-final with Wales.
Tonga (4th) – built really nicely through the tournament though will be seriously gutted about a slow opening 20 minutes against Los Pumas.  Toutai Kefu and his coaching group have done a great job and given four more years to build the kind of relationships that Fiji coach John McKee has with the Europeans clubs, could be the start of a wee Ikale Tahi revival
USA (5th) – a solid campaign; not disgraced by any stretch but hardly covering themselves in glory either.  How Major League Rugby establishes and hopefully strengthens will be significant to any improvement to the game in North America during the upcoming cycle.
Pool D
Fiji (3rd) – yes they secured automatic qualification for France 2023, but only gave us glimpses of what most expected to see from them this tournament.  They paid for a lack of intensity and attitude against Uruguay but regrouped nicely against Georgia before threatening to shock the Welsh.  They deserves top level opposition every July and November going forward and would be a nice addition to the Rugby Championship along with Japan … hey, we are all thinking it.
Georgia (4th) – didn't really fire a shot in their "final" against Fiji in the battle for third which will haunt them when they review the campaign.  A gutsy outing against the Wallabies was a nice way to farewell outgoing coach Milton Haig, who's done an outstanding job over the last eight years in developing the Lelos
Uruguay (5th) – will be seen as one of the success stories of this tournament.  Los Teros victory over Fiji grabbed the attention of rugby fans the world with Captain Juan Manuel Gaminara providing one of the moments of the Rugby World Cup with his breathless, emotion filled post match interview with Melodie Robinson.  They gave Wales a bit of grief too but like most of the sides ranked in the high teens, Uruguay need access to regular games of the  standard they've just play in order to further build on the positivity generated
NIGEL YALDEN IS THE RUGBY EDITOR FOR NEWSTALK ZB & RADIO SPORT