Nigel Yalden: NZ Team of Super Rugby 2019
Author

Publish Date

Wed, 19 Jun 2019, 12:18PM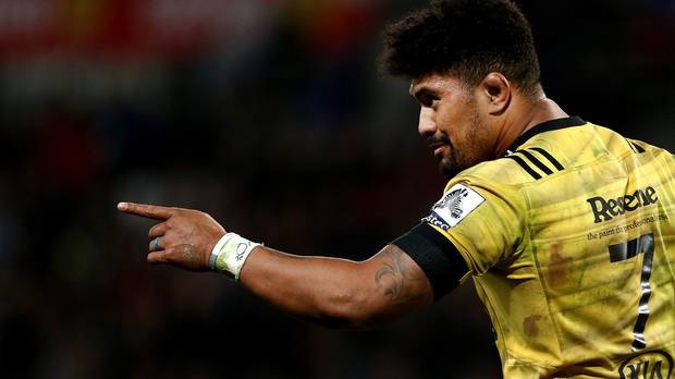 Nigel Yalden: NZ Team of Super Rugby 2019
Author

Publish Date

Wed, 19 Jun 2019, 12:18PM
Each week during Super Rugby, Radio Sport Rugby Editor Nigel Yalden has chosen his NZ Team of the Week. With the regular season done and dusted, we gave him an endless supply of coffee, an assortment of his favourite biscuits and instructed him to collate those selections to come up the NZ Team of Super Rugby 2019:
"To help me bring this all together, I used the following points allocation system
- Players who were the back or forward of the week = 3 points
- Selection for team of the week = 2 points
- Player earning honourable mentions/shout outs = 1 point
In the event of two players in the same number of points, the tie breaker used was the player with the most back or forward of the week selections would be chosen" – Nigel Yalden
1 Atu Moli (Chiefs - 5) returned from an early season injury and went from strength to strength with every game played. He's been very impressive at scrum time but all other areas of his game has been on point too
2 Liam Coltman (Highlanders - 7) has produced the best season of his Super Rugby career and in doing so should have created a significant headache for the All Black selectors in terms of who they take as the third hooker to the Rugby World Cup.
3 Ofa Tuungafasi (Blues - 6) has been very industrious this season in all area but especially with ball in hand, while his core work has been efficient and accurate
4 Scott Barrett (Crusaders – 7) has just been an absolute weapon all season long. His endeavours around the field are now at Whitelock/Retallick standard and we've seen him show his athleticism in open space on more than one occasion.
** Forward of the Week in Round 1
5 Patrick Tuipulotu (Blues - 5) was immense in helping kick start the Blues season after they lost their first three games of the year. Whilst not an overtly vocal captain, you cannot doubt his lead-by-example-ness, especially when it came to the hard metres and he made some seriously big hits in defence while improving his lineout work
** Forward of the Week in Round 9
6 Shannon Frizell (Highlanders - 5) did his best work in the first half of the season but didn't get a lot of chances in the second. When he was starting, he was carrying and defending the way a world class six should
** Forward of the Week in Round 2
7 Ardie Savea (Hurricanes - 8) ... well … I mean … nope, I'm out. I have officially run out of words to describe Savea's play in the 2019 season. Oh wait, these eight might do it – FORWARD OF THE YEAR; PLAYER OF THE YEAR
** Forward of the Week in Round 6, Round 8, Round 11 & Round 13 **
8 Kieran Read's (Crusaders - 4) work rate has been just outstanding. His work at set piece, be it at lineout or off the back of the scrum has been top drawer and while his ball carrying and tackling has been double tough.
9 Aaron Smith (Highlanders - 4) is back to his best. The passing has been sublime, his kicking excellent and his organisational play quite brilliant, but what has been a difference maker has been his willingness to run and the effectiveness of those runs and when B Smith went down, A Smith elevated his play again.
** Back of the Week in Round 14 & Round 15 **
NB Aaron Smith & TJ Perenara both had 12 points; hence the tie breaker was used
10 Richie Mo'unga (Crusaders - 8) continues to grow his game and is showing no signs of plateauing. His reading and directing of play has been quite beautiful at times and is showing that quality that all great first five have – the ability to make it look like he has heaps of time when he actually has very little - BACK OF THE YEAR
** Back of the Week in Round 13 & Round 17 **
11 Rieko Ioane (Blues - 5) like his franchise captain, he did his best work during the Blues winning run from rounds four to eight but continued to produce quality outings over the remainder of the season despite not getting the try rewards that he usually gets for those endeavours
** Back of the Week in Round 6 & 7
12 Anton Lienert-Brown (Chiefs - 7) has been simply extraordinary. He's been, hands down, the best midfield back in the country, while his leadership in tandem with Brad Weber of a very young backline has been as good as the previous Chiefs midfield leader Charlie Ngatai
** Back of the Week in Round 12 & Round 18 **
13 Jack Goodhue (Crusaders - 6) has quickly developed into one of the most consistent performers in New Zealand rugby. He holds himself to a very high standard which means even his poor performances are still pretty jolly good.
** Back of the Week in Round 4
14 Sevuloni Reece (Crusaders - 5) was given a life line, in the form of a rugby opportunity by the Crusaders, and he has taken the chance both on and off the field. In terms of the on-field aspect, his play has been sharp, exciting and skill laden and while I'd best surprised to see him get picked, he fully warrants being in All Blacks discussions – ROOKIE OF THE YEAR
15 David Havili (Crusaders - 5) has recaptured the form he showed in 2017 when he made a couple of memorable cameos for the All Blacks and has also proven himself to be a good leader and organiser of a young back three
** Back of the Week in Round 2
RESERVES
16 Dane Coles (Hurricanes - 3) is back up to speed in a season which has again been reduced by injury, but maximised by endeavours during those limited outings
17 Joe Moody (Crusaders - 4) has rolled along very nicely and has been even more active than previous in the tight stuff
18 Tyrel Lomax (Highlanders - 4) has taken his brief experience with the All Blacks in Japan last year and used it to grow his game massively this season. He's pushed himself wellup the pecking order of tightheads and will become a staple in the All Blacks propping ranks from next year onwards.
19 Sam Whitelock (Crusaders - 4) has been … well … Sam Whitelock. He turns up, week in week out and gives you a performance that may not dazzle you, but will always now he's delivered
20 Matt Todd (Crusaders - 3) see Sam Whitelock
** Forward of the Week in Round 14 **
21 TJ Perenara (Hurricanes - 6) is the most competitive human being in Super Rugby and it's his control of that drive which has been most apparent in 2019; also the most effective communicator with referees of all the New Zealand franchise captains, although I suspect some officials may disagree with me on that
22 Beauden Barrett (Hurricanes - 5) has not produced the plethora of highlight reel plays like we have in years gone by, but the quality and consistency of play this season has been superb
23 What Ma'a Nonu (Blues - 4) has bought to the Blues this season is immeasurable. That veteran leadership and direction has been massive for young half backs and first fives while TJ Faiane has had the best on field education a young centre could ever wish for. And yes, I would have Nonu in my Rugby World Cup squad
** Back of the Week in Round 8 (joint with Ryan Crotty) & Round 9
NB Ma'a Nonu & Ryan Crotty had 10 points; hence the tie breaker was used
Coach: What Colin Cooper (Chiefs) has done with this young team, which lost a shed load of leadership, and after that start to the season, should dispel any doubt about his coaching pedigree. After all, you don't last as long as he has without knowing a thing or two. Throughout this season his message has been very consistent and the team responded by hanging in the playoff hunt, then, having got fully fit at the right time, surged their way into the finals. He may have had more successful seasons, but this is arguably Colin Cooper's best as a Super Rugby coach
Selection criteria: Must play for a NZ franchise but does not have to be eligible for All Blacks
**NIGEL YALDEN IS RUGBY EDITOR FOR RADIO SPORT & NEWSTALK ZB