Jason Walls: The vaxathon was a triumph – but it was missing one important thing
Author

Publish Date

Mon, 18 Oct 2021, 8:23PM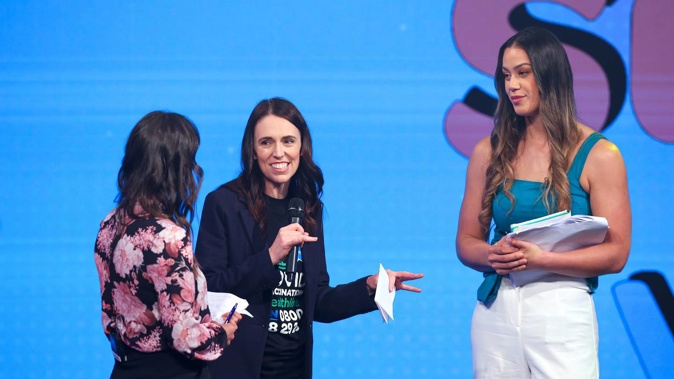 Jason Walls: The vaxathon was a triumph – but it was missing one important thing
Author

Publish Date

Mon, 18 Oct 2021, 8:23PM
The vaxathon at the center of the Government's 'Super Saturday' bonanza was a triumph.
There were more than a few cynical eyebrows raised when the Prime Minister revealed her plans for the eight-hour, telethon-style event.
It would be a "blast from the past" with "a bit of nostalgia," Jacinda Ardern said.
And nostalgia there was. The likes of Jason Gunn and Suzy Cato made appearances, as did Lorde and a rather low-energy Taika Waititi.
The production was a little rough around the edges, but most of the time that just added to the charm.    
And it did what it set out to do – get vaccines in arms.
The final count was a whisker over 130,000 – 39,000 first doses and 90,000 second.
It was a record-breaking day for Māori vaccinations as well.
The Government – and PWC who helped facilitate and run the event – should be proud of what they achieved.
It was so successful that even the cynics who had trepidations about the event were saying it should have been done sooner.
But there was something the vaxathon did lack – the presence of Opposition MPs.
The event organisers were able to get US-based former pro-wrestler Chavo Guerrero to deliver a "get vaccinated" message to the people of New Zealand, but not a single National or Act MP made an appearance.
This is despite Green MP Chlöe Swarbrick and Māori Party co-leader Rawiri Waititi both showing up for live crosses.
It is understood that both Act and National made MPs available for the vaxathon, but were not given the opportunity to meaningfully participate.
This came as a shock to both camps, especially given comments made by Ardern when announcing Super Saturday earlier this month.
"Our political parties have different views on aspects of the Covid-19 response, but we are all united in one thing: vaccination.
"So Super Saturday will be an opportunity for all of us to put aside our political differences—just for 24 hours—and work together for a cause that we all support."
Her comments couldn't have been clearer, which is why the backrooms of both parties were confused as to why they had not been contacted about participating in the event.
Their confusion turned to frustration when they ran into brick wall after brick wall, trying to get the likes of David Seymour and Shane Reti into the run sheet.
Even Judith Collins – who was quarantining in Wellington after spending a few days in Auckland ahead of attending Parliament this week – didn't get to pass on so much as a video message.
Having politicians from across all political parties involved in promoting a single, strong "get vaccinated" message could have only helped the event.
As much as the Government's tried, there are still more than a few vaccine-hesitant people across the country who won't listen to the Government.
They might have listened to a Seymour, a Reti or a Collins.
With so much riding on getting New Zealand's vaccination rate as high as possible, the lack of Opposition MPs was a disappointing snub.
But hey, at least we got to see Ashley Bloomfield dance.
Take your Radio, Podcasts and Music with you