Jason Walls: Surprised the leaders' debate was a snoozefest? You haven't been paying attention
Author

Publish Date

Thu, 21 Sep 2023, 5:21PM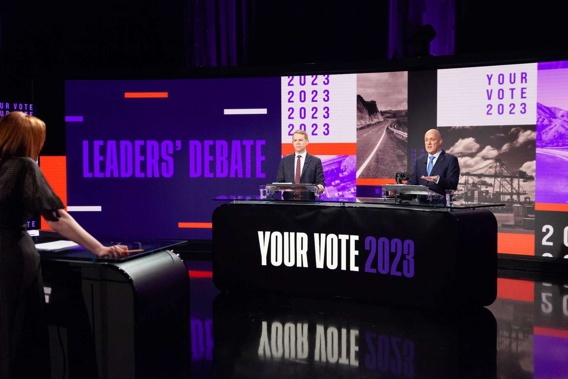 Jason Walls: Surprised the leaders' debate was a snoozefest? You haven't been paying attention
Author

Publish Date

Thu, 21 Sep 2023, 5:21PM
The first televised leader's debate of the 2023 election campaign proved that blue paint dries slightly faster than red paint.  
Political editors and commentators broadly agreed that Chris Luxon was the winner, in what was probably the most lacklustre debate in more than a decade.  
There was no instantly iconic "show me the money," or "this stardust won't settle" line from either of the Chrises – and certainly no "my husband is from Samoan, so Talofa".  
Instead, viewers got a barrage of reheated lines both leaders had already trotted out time and time again on the campaign trail.  
But anyone who was surprised that the debate was a fizzer has clearly not been paying attention to the campaign so far.  
The first three weeks have been remarkably low energy, compared to previous campaign periods.  
In fairness, the bar is quite high. In 2020, Covid-19 once again reared its ugly head – derailing the campaign before it had really begun and forcing a new election date.  
In 2017, Jacinda Ardern bust onto the scene and transformed what was going to be a landslide victory for National into a nail-biter.
This year, we have two men called Chris who both bought houses before their 25th birthdays: It's not exactly a made-for-Hollywood tale of David vs Goliath.  
Behind the scenes of the political machines, focus groups results are showing the policies and promises are just not registering like they have in previous campaigns.
That much is clear on the road with both political leaders. Jacinda Ardern's mall walkabouts drew a crowd of hundreds. Chris Hipkins' was only able to fill out half a hall full of supporters at a union rally last weekend.  
People just don't care as much this time around, and who could blame them. When it's going to cost $3.50 a liter to fill up your car by Christmas and you're looking to refix your mortgage at 8 percent, a polite squabble over which parts of Wellington's boated public service will be cut will not move the dial for many.  
And it's unlikely to get much more exciting from here.  
Both Labour and National have fired their major policy shots – GST off fresh and frozen fruit and vegetables and tax cuts respectively.  
The latter was barely even mentioned in Tuesday's debate.
But both leaders did provide somewhat of a snapshot of how the remaining three and a bit week of the campaign will play out, during the first debate.  
Hipkins – with his back against the wall after last night's 1 percentage point slide to 27 percent – will stay in attack mode. His daily press stand-ups are less about why voters should re-elect Labour, and more about why they shouldn't elect National.  
Speaking to reporters after Tuesday's debate, Hipkins said it had been 20 days since National released its tax cut plans, but refused to release its costings.  
The day before, he opened with the same line... the day before, the same line again.  
The tactic is reasonably straight forward: Muddy the waters. With an apathetic public, Hipkins is desperately trying to seed the idea that "National want tax cuts, but their math is a bit dodgy".
Luxon, meanwhile, has a different plan: Endure.  
He's spent weeks batting away questions about his party's tax plan, continuing to refuse to publicly release the costings.  
Despite the seemingly endless coverage about his lack of transparency, National's vote remains well ahead of Labour's.
Luxon's riding out the criticism until people get bored – hoping that at the end of the day, their one takeaway from the wider tax cut debate is: "I'll have more money to pay for out-of-control food and petrol prices with National".
Last night's poll shows National's plan seems to be working.
It's extremely hard to see Labour pulling itself out of this polling hole. It's understood that many Labour MPs have already seen the writing on the wall, and are preparing for the bitter transition back to Opposition.  
Meanwhile- while voters white-knuckled it through Chris vs Chris on Tuesday – tonight's Winston vs Seymour vs Debbie Ngarewa Packer vs Marama Davidson Minor Leaders' Debate showdown's likely be a doozy.  
Winston hates Seymour, Davidson dislikes Winston, Davidson can't stand Seymour, Debbie says Seymour's a racist and Debbie's not a fan of Winston.
Debbie and Marama will be the only ones in the debate not at each others' throats.  
With that much political tension in the room, there's no way it's going to be anything but a powder keg.
This bodes partially well for Winston, whose NZ First Party's been flirting with 5 percent in a number of major polls.
There's now little doubt in my mind that Winston and the five or six colourful candidates he's selected will win a seat in the debating chamber, come October 14.  
With both Chrises primed to stick to their guns for the remaining 25 days of the campaign, the public dial on a so-far lacklustre campaign is unlikely to be significantly moved.
And as that blue and red paint slowly dries while voters' eyes glaze over, maybe a dash of black will be enough to recapture a bit of excitement.  
Take your Radio, Podcasts and Music with you