Jason Walls: How much will high-flying Luxon clip Act's wings on his path to power?  
Author

Publish Date

Mon, 6 Dec 2021, 9:01pm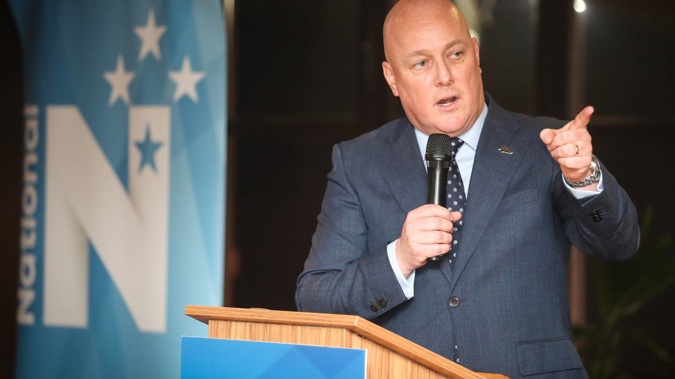 Jason Walls: How much will high-flying Luxon clip Act's wings on his path to power?  
Author

Publish Date

Mon, 6 Dec 2021, 9:01pm
Politics is a team sport, there's no doubt about it.  
That was one of Chris Luxon's main messages when unveiling his fresh, new look caucus yesterday.  
He was also clear that as National's leader, his job is to put together the team to take on the Government.  
Broadly speaking, Luxon's top 20 looks good on paper. It's a good mix of former Ministers, heavy-hitters from Bridges' and Collins teams, and a fair amount of diversity.  
But Luxon's top 20 won't be the 20 joining him around the Cabinet table if he wins the treasury benches in 2023.  
To be crowned Prime Minister, he needs Act – and Act will be looking for a few weighty portfolios to serve under Prime Minister Chris Luxon.  
David Seymour will be a shoo-in for a top spot, as will his Deputy Brooke Van Velden. 
But as for what portfolios they get – and how many of their colleagues get to join them around a Luxon Cabinet table – depends very much on the next few months.  
At the moment, Act is strong – extremely strong. In fact, never before in the history of the party has it had as much influence as it has now.  
Its 16 percent in the most recent Newshub/Reid Research poll means it will be able to bring 20 MPs into Parliament, should it win that much support on Election Day.  
Combine that with National's level of support and the right-bloc is creeping closer and closer to the left.  
Both Luxon and Seymour know this – the relationship between the parties has seldom been as important as it is now.  
There's little doubt that National is about to experience a bump in the polls – as parties tend to do when they change their leader. 
But Luxon's honeymoon looks like it won't be a short-lived as Collins and Muller's before him.  
He's clearly well media trained and has come across exceptionally well since winning the leadership.  
The way he's been able to deflect the predictable questions about his religion and his wealth has been impressive.  
His unprompted line about refusing to apologise for his success comes straight from John Key's tried and tested playbook. 
Some of that support will come from Labour – but much will come from Act. 
Seymour's camp is prepared for a drop – it's widely known that a significant chunk of Act's newfound support has come from disenfranchised National voters.  
But when Seymour drops from the lofty heights he and his party is at now, Luxon will have to decide the next step.  
Does he leave Act to its own devices on a relatively healthy level of support – or does he actively campaign to win the support National's lost back. 
In the final weeks of Collins' leadership, she started attacking Act as its support rose.  
She called him out for flip-flopping on his position on vaccine mandates. 
Before this, she had been relatively silent on Act and its rise. 
It's unclear what path Luxon will take when it comes to Act. When asked about it yesterday, he said he's focusing on National for the here and now.  
But before long he's going to have to take a look at his path to power and decide how big of a part Act will play.