Chris Lynch: Finding hope in empty spaces
Author

Publish Date

Wed, 26 Aug 2015, 12:29PM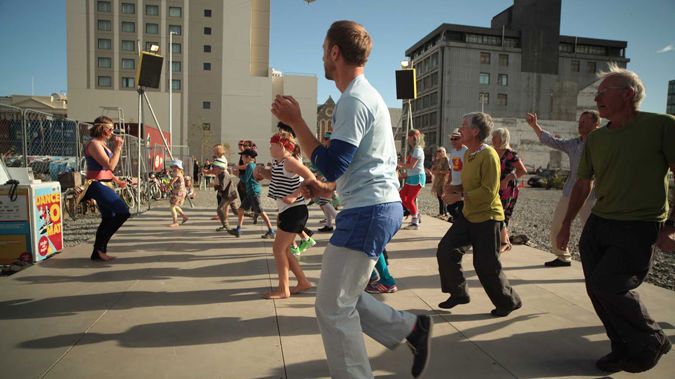 Chris Lynch: Finding hope in empty spaces
Author

Publish Date

Wed, 26 Aug 2015, 12:29PM
It's understandable to assume most Christchurch residents have heard all of the compelling earthquake stories from friends, family, the media and a handful of documentaries that have screened on nationwide television.  However, after watching The Art of Recovery, I was pleasantly surprised and incredibly moved by this powerful story that needed to be told.
The Art of Recovery, directed by Peter Young, beautifully illustrates the enormous contribution the arts community in Christchurch has made to the city during its recovery and transitional period.
From the Gap Filler team, to the kind man behind the earthquake memorial of painted white chairs, this film captures the good in the human spirit from locals who just want to spread joy through creative arts. The Gap Filler organisation started following the September 2010 earthquake in Christchurch, then expanded after the February 2011 quake. The group's mission is to transform empty sites into temporary gardens café, live music, poetry readings, outdoor cinema and the Dance-o-mat.
Peter Young does an outstanding job capturing the small but significant signs of hope and happiness from the Gap Filler's creative installations including the dance-o-mat,  a coin operated dance floor that anyone can use. It's powered by ex-laundromat washing machine with four speakers that surround a custom-made dance floor. It's located in the central city on vacant land previously occupied by buildings. It was compelling, and in a way therapeutic, watching residents laugh and dance in the middle of a destroyed city.  
As I continued to watch, I started to feel frustrated that some of these truly heart-warming stories weren't revealed to the nation much earlier. I guess many of us were stressed with insurance and EQC issues, so it was easy to dismiss any signs of creativity with a 'whatever's good for them' approach. This film reminds us that while many were tearing their hair out just trying to survive the daily grind of inconvenience generated by the quakes, others were literally filling gaps with happiness and their extraordinary success was in fact being recognised internationally.
For example, Christchurch took the honour of being the world's second-best place to visit in 2014, according to the New York Times. As part of its "52 places to visit." The Times called Christchurch a "city in transformation" that was experiencing a "rebirth with creativity and wit." This is largely down to all of artists and creative people who appeared in this documentary. 
The darker story told is the Canterbury Earthquake Recovery Authorities' response to the earthquakes and its top down approach to the community. The film highlights how the government agency CERA, was probably well intended during its infancy, but soon turned into a bloated bureaucracy, which seem disinterested in meaningful public consultation, as it failed to bond with residents, unlike the creative people who inspired inclusiveness and hope in a time when there seemed like there was none.  
The film illustrates the New Zealand government's bizarre obsession with building over-the-top political vanity projects like massive loss-making convention centres which the community doesn't want. It also exposes contrived political spin spouted by politicians suggesting the rebuild was going well despite none of the government projects even getting off the ground during the making of the film.

The Art of Recovery doesn't have a political agenda and it feels like the project was produced organically as history was being made. What it does do is tell a genuine story of hope, frustration, and, at times, unnecessary central government intervention.
What is remarkable is that the storyline is crystal clear without narration. This technique isn't used much by film-makers, because it's incredibly different to produce. However, there's no confusion, and the interviewees tell their stories brilliantly as the film moves along at a fascinating pace. There's never a point where you feel like you've seen enough.

In fact, it's difficult to hold back tears, not because it's particularly sad, but because it stirs up a range of competing emotions. The next test will be whether it resonates with out of town audiences.

I'm confident it will, given the benefits of creative arts during depressing times are truly universal.
RATING: FIVE STARS