'Pakeha system will have to figure out a way of coping': Former MP on the Māori Party's return
Author

Publish Date

Sun, 29 Nov 2020, 4:24PM
Follow the podcast on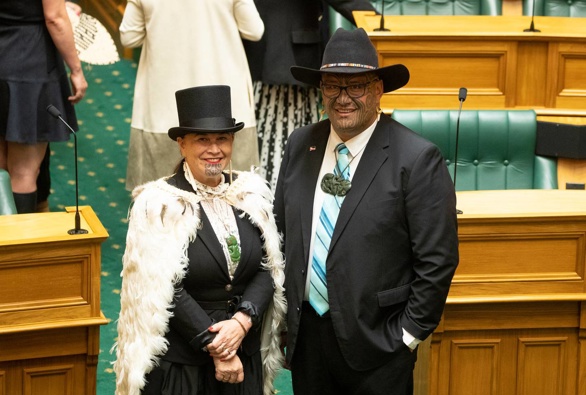 'Pakeha system will have to figure out a way of coping': Former MP on the Māori Party's return
Author

Publish Date

Sun, 29 Nov 2020, 4:24PM
The opening day of Parliament generated a number of headlines, as the Government announced plans for a climate emergency, Jacinda Ardern and Judith Collins clashed on house prices, and Ibrahim Omer delivered a powerful maiden speech. 
However, it was also the first day of the new Māori Party, and their two MPs have walked out of the House in protest during Parliament's Address and Reply debate.
Under the rules, party leaders with more than six MPs get 30 minutes to speak and smaller parties only get the chance if time allows before the House rises at five.
However, because they are new MPs, if they spoke in the Address and Reply debate it would constitute their maiden speech, which are not scheduled until at least next week.
Co-leader Rawiri Waititi tried to secure a speaking slot today based on a standing order that such decisions not discriminate against a minority party.
He told reporters he and co-leader Debbie Ngarewa-Packer walked out after being blocked by Speaker Trevor Mallard.
Former minister Peter Dunne says that the whole situation seemed stage-managed. 
"It's a sign of how they are going to operate in Parliament."
Dunne says Mallard acted correctly based on the standing orders, but this situation also highlights that there is this rare situation where a party leader also happens to be a new MP.
He says that the Maori Party can play to a very specific constituency, more so than other parties, so they don't have to worry about a
"I think what you're going to see from them over the last three years, is nothing too nuanced but a very blunt appeal about Maori sentimentalism and that Maori base of support to secure their future." 
Dunne says the Pakeha system will have to figure out a way of coping, and the more it behaves as it did this week, they will be portrayed as ganging up against the minor party. 
with text from RNZ
Take your Radio, Podcasts and Music with you