Francesca Rudkin: I was pretty impressed with what unfolded on Super Saturday
Author

Publish Date

Sun, 17 Oct 2021, 10:43AM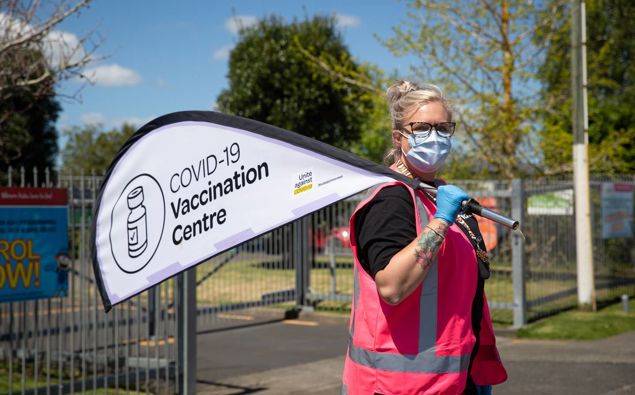 Follow the podcast on
Francesca Rudkin: I was pretty impressed with what unfolded on Super Saturday
Author

Publish Date

Sun, 17 Oct 2021, 10:43AM
So we all know vaccination is the key to moving forward, to saving summer, to transitioning to living with Covid, but it has sort of started to feel like we're a bit stalled, hadn't it?
So when Super Shot Saturday was announced, I was like "OK?", and when the vaxathon was announced, I have to admit, I thought it sounded a bit maff. How's that gonna work? was what was going through my head.
But you know what, I was pretty impressed with what unfolded yesterday. Thursday's vaccination rate was around the 68,000 mark and Friday's just over 69,000, so I was confident that we would hit the 100,000 mark. But to get to almost 130,000, it just felt good right?
It feels like we've got some momentum again, the momentum that Auckland needs to hit the 90 per cent first dose target in the next five days, fingers crossed. And congratulations to Canterbury who had the highest single DHB numbers of just over 17,000.
The effort around the country by frontline health workers, the volunteers and the businesses who encouraged New Zealanders to walk on up or drive in and get vaccinated was really impressive, and that includes all of those who have been working hard to vaccinate those in hard to reach places.
I know it sounds a bit trite, but Kiwis looking after Kiwis is a special thing that we do and yesterday, so many did it brilliantly, so thank you so much.
And then there's the athon. So while it wasn't the athon that we're used to, Paddy Gower's dancing TikTok did remind us of the old days. In fact, I think he's created a whole new trend to do the anti-Tiktok dance dance. See if that takes off.
I have a little bit of experience in putting live television together, enough to understand the enormity of producing a vaxathon in a short period of time, so while it was a little clunky and awkward at times, everybody came to the party with the best intentions.
The show was aimed at younger people, and I just took that from the general age of the presenters and the music which played constantly in the background. I'm sure that there were a few regular daytime watchers who flicked on the TV and went "what?"
But look, overall, the vaxathon was an energetic and inclusive celebration of what was happening around the country, often from areas keen to lift their vaccination rates, so congratulations to all those warm, positive hosts who beamed in from around the country and the studio in Wellington.
Gonna be honest, I was buoyed by Super Shot Saturday. If you live in Auckland, you're more than likely getting your head around how life is gonna look from now on. You might've received information from your kid's school on how schooling is gonna look, been told "no jab, no job", or received a survey from your workplace offering prizes to share your vaccination status.
A mask is always at arm's reach. Arranging for the kids to meet a friend in the park, I've noticed texts from the other parents generally starts with offering the information: we're double vaxxed. This is our new life.
While there are still areas of concern and while we strive for the highest possible rate of vaccination, Super Saturday served its purpose. It's another step towards calmly getting on with living with Covid, removing restrictions and getting people back into business, and hopefully saving our summer.