Mike van de Elzen: Coq au vin with parsnip mash
Author

Publish Date

Sun, 20 Jun 2021, 11:10am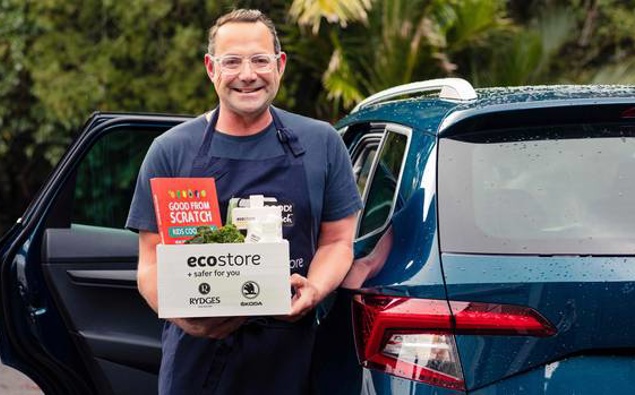 Follow the podcast on
Mike van de Elzen: Coq au vin with parsnip mash
Author

Publish Date

Sun, 20 Jun 2021, 11:10am
Coq au vin with parsnip mash (serves 6)
1.5kg skinless, bone-in free range chicken thigh
2 cups red wine
6 baby white onions, outer skin removed
2 tbsp oil
pinch flaky salt and white pepper
200g button mushrooms
6 rashers streaky bacon
1 cube chicken stock dissolved in 1 cup water
¼ cup chopped Italian parsley + extra for garnish
12 Cos lettuce leaves
6 slices wholegrain bread, toasted
6 tbsp Dijon mustard
Season chicken thighs with salt and pepper and marinate in red wine for at least two hours in the fridge.
Preheat oven to 180*C.
Put baby onions and mushrooms into a roasting tray, toss with oil, salt and pepper and roast until the onions are tender (about 10 minutes).
Heat a large ovenproof cast iron pot or dish and saute bacon until fat is rendered out.
Remove bacon and chop into large pieces.
Remove chicken thighs from marinade and brown in the pot.
Cook the chicken in batches to avoid stewing.
Add the bacon, chicken, onions, mushrooms, red wine, stock and parsley.
Cover and put in oven for 40 minutes.
Remove lid and cook for a further 25 minutes.
To serve: spread a generous amount of parsnip mash on each plate, then lay Cos leaves on top. Spoon over the coq au vin and garnish with chopped Italian parsley. Spread Dijon mustard on each slice of wholegrain toast, and serve alongside.
Parsnip mash
6 parsnips
2 cups milk
50g butter
Peel and roughly chop the parsnips.
Put these into a saucepan and cover with milk and water.
Bring to the boil, reduce heat and cook until tender (about 25 minutes).
Drain, reserving the milk, and pass parsnip through a sieve.
Gradually add the milk back into the mash while whisking, until you achieve a creamy consistency (you may not need all the milk).
Add butter and mix well.