Mike van de Elzen: Whole roasted pumpkin soup
Author

Publish Date

Sun, 11 Apr 2021, 10:53AM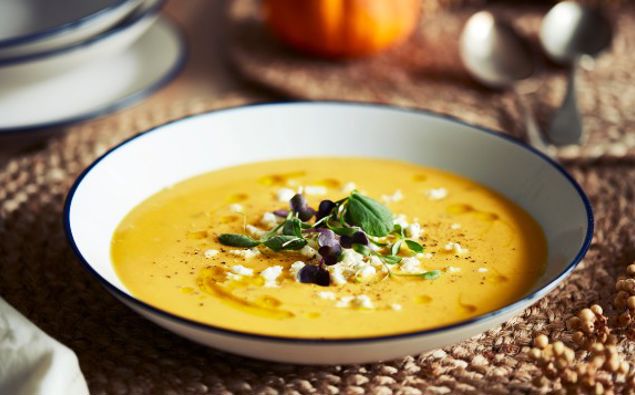 Mike van de Elzen: Whole roasted pumpkin soup
Author

Publish Date

Sun, 11 Apr 2021, 10:53AM
Whole roasted pumpkin soup
1 pumpkin
2 medium-sized onions
4 cloves garlic
1 ltr vegetable Stock
1 tsp paprika
1 tsp curry powder
1 tsp ginger powder
1 cup white wine
1 cup cream
50 gm butter
seasalt
grapeseed oil
Pre-heat oven to 180*c
Take the whole pumpkin and rub with a little oil and season with some sea salt and place onto an oven tray and then into the oven.
Roast for 1 hour or until a knife can easily pass through the pumpkin.
Cut off the top off the pumpkin and using a large spoon, hollow out the centre of the pumpkin, discarding the seeds and then the skin. Setting aside the remaining flesh. Heat a pot, adding in a touch of oil before sweating the onions followed by the spices.
Adding in the pumpkin and garlic followed by the wine. Cook on high for a further couple of minutes to reduce the wine before covering the pumpkin with the vegetable stock. Once it comes back up to the boil, simmer for another 10 minutes.
Blend the soup in a blender or using a stick blender whilst slowly adding in butter and finally cream, season to taste.