Mike Van de Elzen: Uber Crispy Chicken burger with Fennel Slaw
Author

Publish Date

Sun, 19 Sep 2021, 12:08pm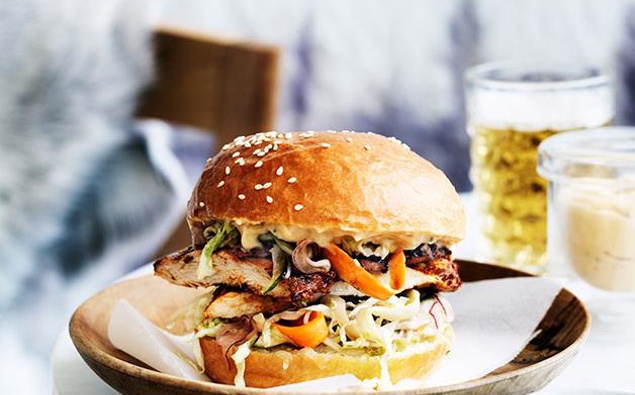 Follow the podcast on
Mike Van de Elzen: Uber Crispy Chicken burger with Fennel Slaw
Author

Publish Date

Sun, 19 Sep 2021, 12:08pm
Uber Crispy Chicken burger with Fennel Slaw (makes 4 burgers)  
6 boneless skinless chicken thighs 
1 cup yogurt 
1 cup milk 
100g cornflour 
100g plain flour 
2 tsp chilli flakes or powder 
1 tsp dried thyme 
2 tsp oregano  
½ tsp cracked pepper 
2 tbsp sweet paprika  
2 tbsp smoked paprika 
1 tsp ground coriander 
4 tsp salt 
1 tbsp garlic powder (optional) 
Oil for frying  
6 burger buns 
Cos leaves  
Chilli sauce if you want a bit more spunk! 
Place the chicken into a bowl and cover with the milk and yoghurt, refrigerate for up 6 hours.  
Mix all the dry ingredients together to make up the spice rub.  
Preheat the oven on fan bake to 180°c.  
Remove the chicken from the yogurt and shake off any excess marinate. Place the spice rub onto a plate and roll the chicken around the mix until well covered. 
Heat a cast iron frypan with a good amount of oil (4 tbsp) Carefully fry the chicken pieces in small batches, trying not to over-crowd the pan. Repeat with the rest of the chicken pieces adding more oil if required. Place the chicken pieces onto a roasting tray and then into the oven until cooked. Checking after 10 minutes.  While the chicken is cooking get busy with the slaw, toasting your buns and pouring a nice glass of hazy IPA.  
Simple fennel coleslaw 
½ white cabbage 
½ red cabbage 
1 bulb of fennel 
1 carrot, cut into ribbons with a potato peeler 
2 tbsp mayonnaise 
Juice of I small lemon 
Salt and cracked pepper

Combine all the ingredients together in a bowl and add sea salt.