Mike Van de Elzen: Tiramisu
Author

Publish Date

Sun, 12 Nov 2023, 1:29PM
Follow the podcast on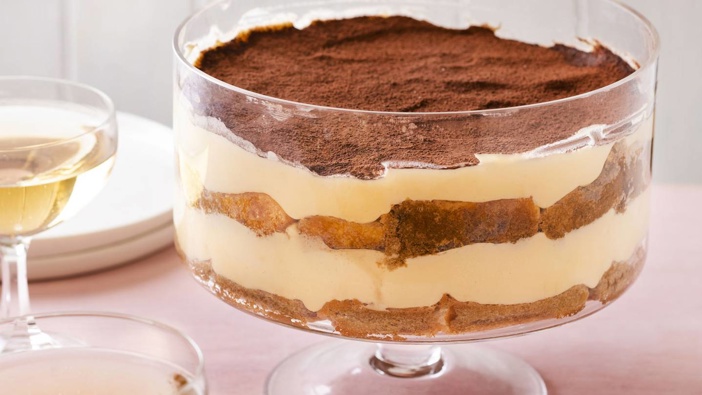 Mike Van de Elzen: Tiramisu
Author

Publish Date

Sun, 12 Nov 2023, 1:29PM
Tiramisu (serves 6-8) 
NOTE: Tiramisu is best made the day before or on the morning of your occasion. 
Prep time: 20 mins 
400g mascarpone 
5 eggs, separated 
3 tbsp icing sugar 
2 tbsp caster sugar 
200ml strong espresso coffee 
100ml spiced rum 
1 quantity savoiardi biscuits 
3 tbsp cocoa powder for dusting 
Over a large pan of simmering water place a medium bowl. In it, whisk egg yolks and icing sugar until thick and pale. Remove from heat and cool, then mix through mascarpone. In another clean bowl, whisk egg whites to soft peaks. Gradually whisk in caster sugar until stiff and glossy. Fold egg whites through mascarpone mix. 
Stir espresso and rum together in a bowl. Dip underside of 1/3 of the savoiardi biscuits in coffee mixture and lay on bottom of serving dish. Spread over a layer of mascarpone mix and dust with dark cocoa powder. Repeat process twice more. Set in fridge. 
Savoiardi biscuits 
Prep time: 15 mins 
Cooking time: 10 mins 
6 large eggs, separated (room temperature) 
4 tbsp caster sugar 
1 tsp vanilla paste 
1 cup plain flour 
¼ tsp cream of tartar 
6 tbsp caster sugar 
2 tbsp icing sugar for dusting 
Preheat oven to 180*C. Line a baking tray with paper. Whisk egg yolks with first measure of sugar on high speed for about 5 minutes or until mixture is thick and pale. Add vanilla and beat again briefly. Sift flour over egg mixture but do not stir. In a clean mixing bowl, whisk egg whites until foamy. Add cream of tartar and continue to whisk until soft peaks form. Gradually add second measure of sugar while whisking until the mix is glossy and stiff. Fold egg whites into flour and egg yolk mixture in three stages until just combined. 
Transfer batter to a piping bag with a 1.25cm round tip. Holding the bag at a 45-degree angle to the baking sheet, pipe batter into 7.5 cm long fingers. Leave about 2.5 cm space between each biscuit. Dust with icing sugar and bake for 8-10 minutes or until biscuits are firm but still spongy. Allow biscuits to cool slightly but slide off baking paper while still warm. If not using immediately, store in freezer as these biscuits go stale very quickly. 
LISTEN ABOVE
Take your Radio, Podcasts and Music with you