Mike Van de Elzen: Supper club Coq au Vin
Author

Publish Date

Sun, 15 May 2022, 11:45am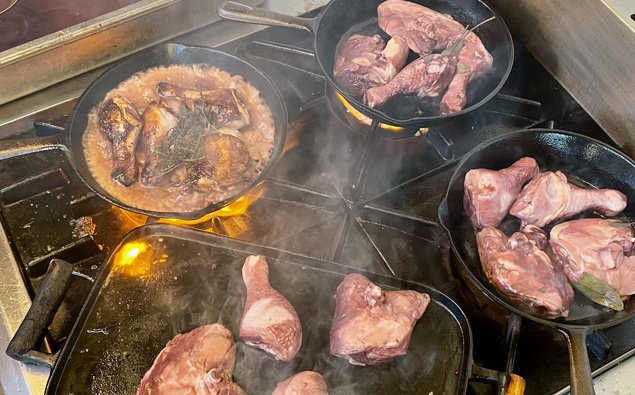 Follow the podcast on
Mike Van de Elzen: Supper club Coq au Vin
Author

Publish Date

Sun, 15 May 2022, 11:45am
I've never made Coq au Vin and I thought it was a lot more complicated than it is!  
3 cups of red wine – is this a dish for family? Does the alcohol burn off?  
This week we had one of our very popular supper clubs at the school. It was super cold! and we had all the fires going.  
Because it was so cold, it was great as I could dig out a real winter warmer. Coq au Vin.  
While Coq au Vin might sound fancy, it is really just a simple French chicken stew. Back in the day they used to use Old roosters in this dish as the red wine would mask the strong rooster flavour and the long cooking process would ensure it cooked through tender. 
It's a great winter warmer and ensure you serve it with heaps of garlic infused mashed potatoes. 
Supper club Coq au Vin 
1.5kg skinless, bone-in free range chicken legs  
3 cups red wine  
1 cup fresh thyme  
6 garlic cloves, crushed  
6 baby white onions, outer skin removed, cut in half  
2 tbsp oil  
pinch flaky salt and white pepper  
200g button mushrooms, cut in half  
6 rashers streaky bacon  
1 cube chicken stock dissolved in 1 cup water 
Cut the chicken legs in half between the drum and thigh.  
Cover the chicken in red wine, garlic and thyme and place in the fridge overnight to marinate. 
Preheat oven to 160*C.  
Heat a large cast iron pan until hot, add a touch of oil and then lay in the baby onions cut side down. Cook until well coloured before turning. Remove and repeat with the cut mushrooms before setting them aside. Finally saute bacon until fat is rendered out. Remove bacon and chop into large pieces.  
Clean the pan out and place back onto heat with a touch of oil. Remove chicken thighs from marinade and fry the chicken in batches to avoid stewing. When all coloured on both sides. Place the chicken back into the pan and carefully pour over the red wine marinate, including the garlic and thyme and reduce by half.  
Top with the bacon, onions, mushrooms and stock. Cover lightly with baking paper put in oven for 1 hour.  
Check the chicken and cook for a further 25 minutes if required.  
Serve with some creamy mash potatoes. 
Check out Mike's website.