Mike van de Elzen: Stuffed apple crumble
Author

Publish Date

Sun, 27 Jun 2021, 11:57am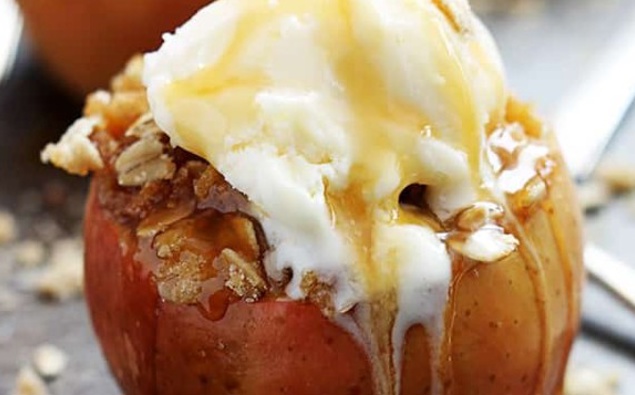 Follow the podcast on
Mike van de Elzen: Stuffed apple crumble
Author

Publish Date

Sun, 27 Jun 2021, 11:57am
Stuffed apple crumble
2 tbsp brown sugar
1 tsp corn-starch
1 tsp vanilla essence
1 tbsp lemon juice
1 tsp cinnamon, ground
1/4 tsp salt
1/4 cup flour
1 cup rolled oats
1/2 cup icing sugar
1/2 cup butter
Vanilla ice-cream
Preheat the oven to 180 degrees on bake and line a large baking tray with greaseproof paper.
Cut the tops of the apple and core the apples using a corer or knife, discarding the core. Be careful not to cut right through the apple.
Use a spoon to dig out the sides to create a bowl inside the apple.
Cut up the removed apple.
In a mixing bowl, combine the salt, 1/2 tsp cinnamon, lemon juice, vanilla, corn-starch, brown sugar and apple chunks. Fill the apples.
Add together the flour, rolled oats, icing sugar and remaining cinnamon. Using your hands, rub in the butter and sprinkle over the top of the apple.
Bake in the oven for 30-40 minutes or until the filling is bubbling. Serve hot with vanilla ice-cream if you have it otherwise a bit of whipped cream.