Mike Van de Elzen: Pork ribs with house rub
Author

Publish Date

Sun, 4 Apr 2021, 11:19AM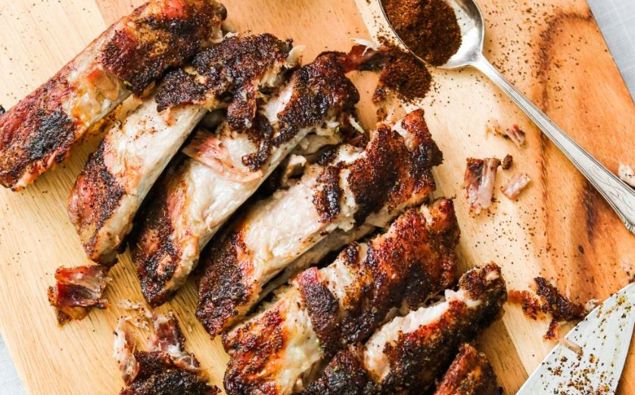 Mike Van de Elzen: Pork ribs with house rub
Author

Publish Date

Sun, 4 Apr 2021, 11:19AM
Yeah to the long weekend! 
Hopefully we all have a little more time to reconnect with our food and get back into the kitchen.
On the farm we host many classes, one which is one of my favourites it is called PIG.SMOKE.FIRE. how can that not sound any better?
It evokes everything thats getting us back to the roots of our cooking, smoke and fire. Which is so popular and in flavour now. We are so comfortable with cooking on our gas or induction cooking we forget that cooking on fire not only gives us more flavour but gives you a sense of occasion.
So in saying that I want to share a recipe that we use in our pork classes and is a perfect recipe for when you have a touch more time over the Easter break.
Pork ribs with house rub
10 star anise
2 tbsp salt
5 bay leaves
1 tbsp peppercorns
2 tbsp Dijon mustard
Mike's House Rub
1 tbsp mustard, cumin, coriander seeds, toasted and crushed
1 tbsp mustard powder
1 tbsp garlic powder
2 tbsp sea salt
½ tbsp cracked pepper
1 tbsp smoked paprika
1 tbsp dried mixed herbs
2 tbsp brown sugar
½ tsp cayenne pepper
Preheat oven to 190*C.
Place ribs and spices in a large saucepan and cover with water. Bring to the boil, reduce heat and simmer for 20 minutes.
Make up the house rub. Mix all ingredients together. Store in an airtight container.
Drain well and turn bones out onto oven tray. Spoon over the mustard, then use the spoon to spread the mustard evenly over the ribs. Then sprinkle and coat ribs with Mikes house rub. Spray ribs lightly with cooking spray. Roast for 30 minutes, remove from oven and cut into individual ribs.
Eat with some simple chili sauce