Mike van de Elzen: Karaage style fried chicken with mint slaw
Author

Publish Date

Sun, 31 Jan 2021, 11:00AM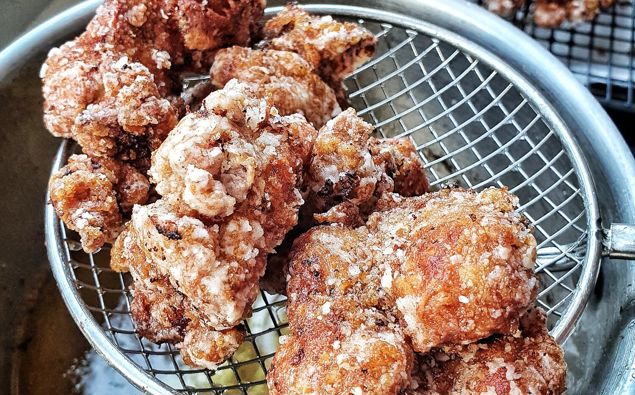 Mike van de Elzen: Karaage style fried chicken with mint slaw
Author

Publish Date

Sun, 31 Jan 2021, 11:00AM
Mikes Karaage style fried chicken with mint slaw
400gm boneless, skinless chicken thighs
4 garlic glove, crushed
4 tbsp ginger, crushed
4 tbsp soya sauce
4 tbsp mirin (sweet rice wine)
1 tsp seasalt
6 cups potato flour
Mint Slaw
1/2 white cabbage, finelly sliced
1 white onion, finelly sliced
1 red pepper, deseeded & sliced
1 cup mint leaves, chopped
1/2 cup gherkins, chopped
1 tbsp scriracha chili sauce
1 tsp salt
3 tbsp mayonnaise
Heat a frypan with a large amount of oil or a deepfryer to 180 degrees. Cut the chicken thighs across the center to half the thickness of the chicken thigh. Marinate in a bowl with the garlic, ginger, soya, mirin and salt. Set aside for 10 minutes.
Make up the slaw by combining all the ingredinets together in a bowl. Adjust the seasoning and set aside.
To cook the chicken. Empty the potato flour into a bowl. Pull the chicken from the marinate and drop into the bowl of potato flour, ensure the chicken is well coated before dropping into the oil and frying until well coloured and cooked. Will take about 5 minutes Remove the chicken from the fryer and place onto kitchen paper to drain.
To serve the chicken, Spoon out the slaw over the 6 plates and then place the crispy chicken over the top.
Side dishes can include Bao buns or steamed rice. Alomg with cucumber sticks and cos leaves.