Mike van de Elzen: Hazel's Sticky Pork Ribs
Author

Publish Date

Sun, 17 Oct 2021, 11:24AM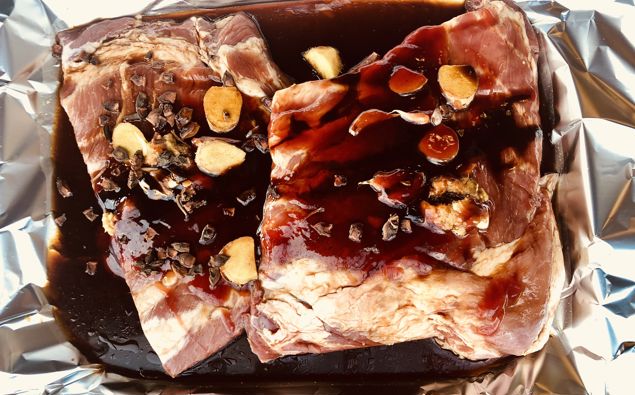 Follow the podcast on
Mike van de Elzen: Hazel's Sticky Pork Ribs
Author

Publish Date

Sun, 17 Oct 2021, 11:24AM
Hazel's Sticky Pork Ribs
1 whole pork rib rack approx 1.5kg
1 whole bulb garlic
1 knob ginger
10 star anise
6 tbsp soy sauce
6 tbsp hoisin sauce
6 tbsp black or malt vinager
2 tbsp brown sugar
Remove the pork rack from the bag and rinse quickly under some cold water. Pat dry and cut the rack in half down between the 7 and 8 rib bone. 
Take a large piece of tin foil and double it up, then lay down the pork rack.
To prepare the marinate. Break down the garlic into cloves, peeling half of them. Take a mircoplane or grater and grate them into a fine paste. Crushing the remaining with the side of a knife.
Using the mircoplane or a grater again, grate half the ginger into a paste, slicing the remaining into thin slices.
Add into a bowl along with the remaining ingredients and combine well. Pour over the top of the ribs and rub all over. Cover the ribs with greaseproof paper and then another layer of tin foil. Seal up as well as you can.
Place into the fridge for a couple of hours. 
Preheat your oven to 160*C, place the ribs onto a tray and then into the oven for 2 hours. After this time check the ribs. Carefully remove the ribs from the cooking juices and cut down in between each rib, lay them back into the cooking juices, spooning some liquid over the top before placing them back into the oven uncovered for a further 1 hour. 
After this time they should be good to go!