Mike van de Elzen: Confit duck with whitebeans and sage
Author

Publish Date

Sun, 18 Apr 2021, 11:25AM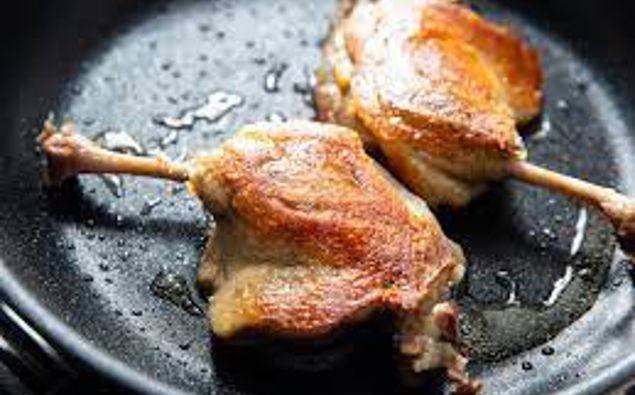 Mike van de Elzen: Confit duck with whitebeans and sage
Author

Publish Date

Sun, 18 Apr 2021, 11:25AM
6 Duck legs
6 tbsp sea salt
5 cloves garlic, crushed
3 tbsp chopped thyme
Cracked black pepper
Pure olive oil to cover

Whitebeans & sage
500gm White Beans
1 Carrot, chopped
1 Onions, chopped
2 Tomatoes, chopped
2 tbsp Olive oil
2 tbsp Flat parsley, chopped
1 tbsp Sage, chopped
Little bit of Smoked Meat Trimmings, like bacon
Mix together the salt, garlic, thyme & pepper.
Take your duck legs rub in the salt mixture.
Place the legs into a dish and then completely cover with any remaining salt. Leave in the fridge overnight. 
In the morning rinse off any excess seasoning & dry
Place large deep tray, pouring over the oil ensuring completely covering legs.
Cover with some tin foil and place in the oven and bake for 2½-3 hours on 130*c. Test after this time. The meat should be tender and show no resistance when pulled with some tongs.
Remove from oven & allow the legs in the oil. Once cool you can refrigerate for up to a month.
Whitebeans & sage
Soak beans overnight before rinsing beans before placing into a large pot and just cover with cold water.
Add all ingredients except sage and bring to simmer.  Cook for 1 hour. Before service add the sage.
TO SERVE
To heat confit duck leg. Place skin side down into a warmed frypan. Continue to fry on the skin until golden before placing in the oven on 180*c for 8 minutes on the skin.
Serve beans in a bowl with duck on top