Michelle Dickinson: Why working from home is exhausting us
Author

Publish Date

Sun, 26 Sep 2021, 12:27PM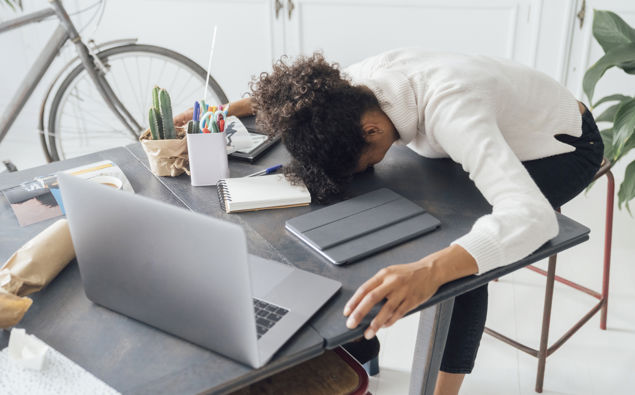 Michelle Dickinson: Why working from home is exhausting us
Author

Publish Date

Sun, 26 Sep 2021, 12:27PM
Another week of working from home for many of us, and science says we might be pretty exhausted by now. 
The reason: "Zoom fatigue" - a feeling of being drained and lacking energy following a day of virtual meetings. 
The research published a study in the Journal of Applied Psychology found that it's not the virtual meetings that are tiring, but having your camera on during a virtual meeting that exhausts you. 
Participants who attended the same virtual meetings, but with their cameras off actually engaged more and were less tired at the end of the day! 
So, what is causing this video exhaustion? 
1) Excessive amounts of close-up eye contact is highly intense. 
In an in-person meeting, people look around, take notes and shift their gaze. However, on video calls, everyone is looking at everyone, all the time, and eye contact with others is constant and stressful. 
Also depending on your monitor size faces on videoconferencing calls can appear too large for comfort again stressing us out. 
2) Seeing yourself during video chats constantly in real-time is fatiguing. 
Imagine if somebody was following you around with a mirror constantly – so that while you were talking to people and making decisions you were seeing yourself in a mirror. That's what it's like on video calls, and studies show when we see a reflection of yourself, you are more critical of yourself. 
3) Video chats dramatically reduce our usual mobility. 
People usually move around when they are on a phone call and doodle in meetings, but video calls force us to sit in one place for long periods without moving. 
4) The cognitive load is much higher in video chats. 
In real life, nonverbal communication is natural but in video chats, we have to work harder to send and receive signals like nodding our head excessively or adding a thumbs up to agree. 
So, what are the tips to help reduce stress while we still work remote: 
Give yourself audio only breaks where you turn off your camera and and screen and just interact with the meeting through audio.  
Reduce the size of the video software so faces aren't bigger than they would be in real life. 
Move the camera field of view so you have space to doodle and move your arms around in a meeting. 
Once your camera is set up, turn off the view of yourself so you aren't over-analyzing your reflection.