Whitcoulls Recommends: The best fiction of 2020
Author

Publish Date

Sun, 13 Dec 2020, 12:01PM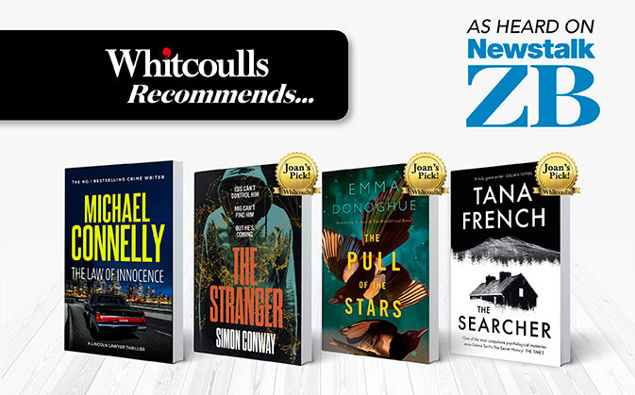 Whitcoulls Recommends: The best fiction of 2020
Author

Publish Date

Sun, 13 Dec 2020, 12:01PM
The Law of Innocence by Michael Connelly
The Lincoln Laywer is back – when Mickey Haller is pulled over by a copy and a body is found in the boot of his car, he knows he's been set up and is in deep trouble. Especially when a vindictive judge posts his bail @ $5m.
The Searcher by Tana French
Cal is an ex Boston cop who's having a midlife crisis and buys a rundown place in the Irish countryside to lick his wounds and start again – when a local kid turns up and asks for Cal's help in finding his missing older brother. Even small towns can have big secrets.
The Stranger by Simon Conway
Terrific thriller for anyone who likes a good one – Jude Lyon is employed by MI6 and was involved in the rendition of a prisoner, whom they hoped never to see again – but someone busts him out of the Syrian prison he's being held in and everything starts to go terribly wrong. Jude is sent back in to sort it out but ISIS have other plans……..I think this is a really good book for anyone who loved I Am Pilgrim by Terry Hayes.
The Pull of the Stars by Emma Donoghue
Tthis is remarkable – she started writing it in 2018 years before we'd heard of Covid – but it's set in the middle of  a pandemic - the Spanish Flu- and it feels eerily similar. Set over the course of just 3 days in a Dublin hospital it's about young Julia Powers who is a nurse on a chronically understaffed ward for infected pregnant women, trying to save both mothers and babies. The action all takes place in a very small space, just as it did in her most famous book Room (also made into a terrific film). She's really good at it.