Week in Politics: Māori Party makes a big statement in maiden speeches
Author

Publish Date

Sun, 6 Dec 2020, 10:10AM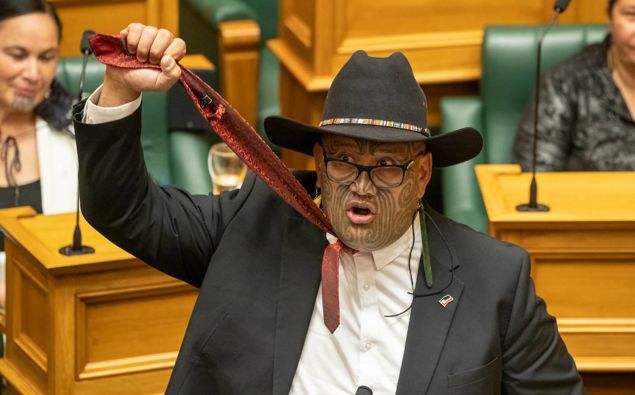 Week in Politics: Māori Party makes a big statement in maiden speeches
Author

Publish Date

Sun, 6 Dec 2020, 10:10AM
Māori Party co-leader and Waiariki MP Rawiri Waititi says he will be an unapologetic voice for Māori - like a pebble in the shoe of Parliament.
Waititi began his maiden speech in Parliament today with a stirring waiata supported by whanau in the public gallery: "You're magic people to me ... I'm proud to be Māori."
He said he would be a Māori voice in every piece of legislation to come to the house.
"You know what it feels like to have a pebble in your shoe? That will be my job here."
He paid tribute to Dame Tariana Turia for crossing the floor for the foreshore and seabed law and creating the Māori Party.
"Her courage has inspired a whole generation, and her act of bravery continues to inspire them today."
He told a joke to illustrate the partnership between Māori and Pakeha, where Pakeha were a great white shark that simply ate the fish that represented Māori.
He said Māori had suffered through extermination practices, assimilation, land-stealing laws, denial of tangata whenua status, and a monocultural view that almost saw the Māori language die.
He then noted media company Stuff's apology for its racist portrayal of Māori and its commitment to do better - but he was waiting for the Crown to do the same.
"For the monocultural viewpoint that has sought to repress tangata whenua, for aiding and abetting the system of racism that strips us of our spirit."
It was no longer acceptable for Oranga Tamariki to "steal our babies", the justice system to "lock our people up", the welfare system that "keeps my people poor", the health system that "keeps my people sick", education that "keeps my people dumb", or a housing system that "keeps my people homeless".
"This has to stop. It is time for Māori to look after Māori."
Maori Party co-leader Debbie Ngarewa-Packer at the start of her maiden speech. Photo / Mark Mitchell
His co-leader, Debbie Ngarewa-Packer, also made a powerful statement, beginning her speech on a chilling note.
"I stand here as descendant of a people who survived a holocaust, a genocide, sponsored by the House and Members of Parliament whose portraits still hang from the walls, Members of this Parliament who sought our extermination and created legislation to achieve it, that confiscated all our whenua, imprisoned us without trial and murdered and raped our women and children and deliberately engineered our displacement for generations to come.
"What [19th century politicians] William Fox, George Grey, John Bryce and many others did to my people was unforgivable," she said.
"Fortunately, their one-generational plan was outlived by our forever generational resolve, such is the strength of my whakapapa. But the trauma of what they did to us still lives with us.