Jack Tame: That familiar sinking feeling
Author

Publish Date

Sat, 11 Jun 2022, 9:33am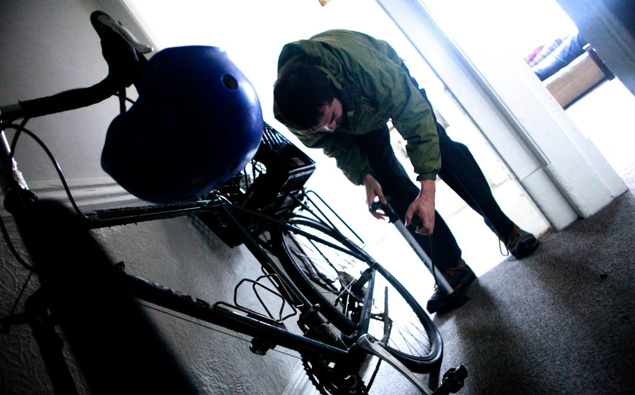 Follow the podcast on
Jack Tame: That familiar sinking feeling
Author

Publish Date

Sat, 11 Jun 2022, 9:33am
I knew it the moment I saw it.
My bike just looked a bit... off. It was sitting heavy in the bike rack at work. Everyone else's bikes sat bright and perky on puckered, plump, pressurised black rubber.
There is just something so distinctly sad about a flat tyre.
I started walking home with it. I moped up the hill, leading my bike like a handcuffed prisoner. Cyclists zipped past me in the bike lane, one after the other, fast and free, their high-vis vests snapping in the wind, home in no time! I kept on missing the traffic lights. Mope, mope, mope. Ten minutes from home, it started raining.
I figured I must have got the flat on the way to work that morning. I couldn't remember riding over broken glass or thumb tacks or a discarded bucket of nails. Just one of those things, I figured. The Gods saw the weather forecast and thought uh huh! Here's an idea. A bit of sport. Let's make Jack's day just a little bit worse.
It took me longer than it should have to change the tube. I've recently had to move my furniture around, and I emptied three large storage containers before I dug out my tyre levers. With two thirds of my worldly possessions arranged across the garage floor, I flipped my bike on its back. No sign of a nail. No thumb tacks. No sign of a gaping wound. I'm ashamed to say I took the easy way out and instead of finding the puncture and patching the hole, I just chucked in another tube. I pumped her up to sixty PSI and scoured the grease off my knuckles. Ride on.
Nothing gets you down like a flat tyre in the rain. Except, maybe, for waking the next morning, packing your bags for work, scurrying down to the garage and discovering another flat tyre.
Brilliant. For a moment I wondered if it was a non-violent protest by someone who just really hates cycle lanes. Since those eco-warriors are letting down the tyres on gas-gazzling SUVs, maybe some of the bike lane NIMBYs have been feeling inspired? As I walked to walk, it started to rain.
The good thing about getting a flat tyre two days in a row is that the second time around, you're faster. You're better practised. You feel like a Formula One pit crew as you flip your bike on its back and see the familiar streak of black grease across your palm. Unfortunately for me, this theory only holds if you didn't somehow lose the only hex key that fits your cycle's axle bolt. I emptied three large storage containers and re-arranged half my worldly possessions across the garage floor before I found it.
This time, I was really careful. I spun the wheel and scoured it for nails and pins. I ran my fingers all along the inside of the tyre and flicked out the tiny little bits of detritis that had gathered inside. I used my last bike tube and delicately arranged it around the outside of my rim, inflating it just a little bit to keep it inside the tire before sealing the rubber lips around the inside ring. I pumped it up, slow and steady. Sixty PSI. I wiped all the grease off my fingers and pushed off down the hill.
The wind in my hair. The fresh winter air in my lungs! Hallelujah, I thought! I'm alive!
There are certain moments in life that one becomes aware of a sinking feeling. In this case, it was a very literal sensation, not unlike gently lifting the lever to lower your office chair. I was perfectly located in the no man's land that marks the single-least convenient part of my entire commute to work. A few drops of rain began to plop on my backpack as I climbed down off my pedals. My back tyre sagged and folded around the rim like a belly spewing over a waistband.
Bugger it, I figured. Tomorrow, I think I'll drive.