Ruud Kleinpaste: Garlic planting timing to prevent rust
Author

Publish Date

Sat, 14 May 2022, 11:16am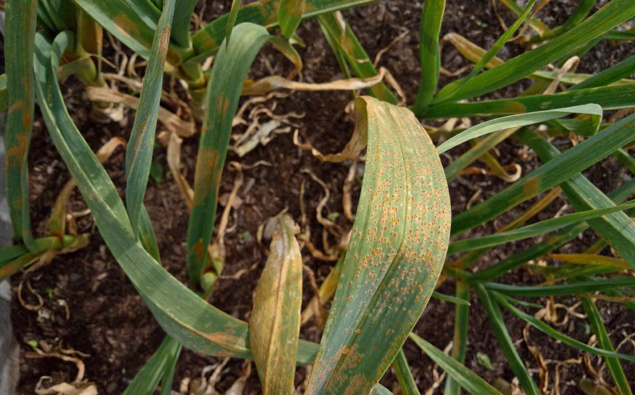 Follow the podcast on
Ruud Kleinpaste: Garlic planting timing to prevent rust
Author

Publish Date

Sat, 14 May 2022, 11:16am
Rust on garlic seems to have become a real pain in the last few years; not just me in CHC but right around the country, and especially in areas with high gardener-population densities…
If you are surrounded by gardeners, growing onions, shallots, leeks and garlic, chances are that spores of the Allium rust are numerous in the air.
That means there's a good chance your garlic (and leeks and onions and shallots will be infected at some stage this coming spring.
To avoid that from happening it might be useful to speed things up a bit and to move planting forward in autumn
Traditionally garlic used to be planted on the shortest day (third week of June) and harvested around the longest day (Just before Christmas), but I've done some trials now for the last half a dozen years or so.
Managed to bring it forward as much as 7 weeks: planting in first week of May has had the best results with the minimum of sprays (organic copper) needed; Mind you this is based on my position on the Port Hills in Christchurch.
The rust is a Fungal disorder that hammers the Bulb-forming members of Allium (onion Genus group of the Family Amaryllidaceae.
The fungus enters the long, soft leaves of shallots, onions and garlic and causes yellowing of the leaves, ill-thrift and sick-looking plants towards the end of the growing season, when temperatures rise in spring.
The most significant diagnostic sign are the bright yellow "pustules" that form on the leaves – these pustules are easily rubbed off by your finger
Printanor is the common old garlic variety you buy at "New World". Often it is imported from China and treated to stop it sprouting. That means no good for planting!!
Buy some planting cloves that are either organic or simply not treated.
At farmers market you can sometimes purchase interesting varieties:
Californian Red Turban – can grow into huge bulbs (15 cm diameter bulbs)
Macedonian – strong flavour – and somewhat oily
West Coast Miners – rather good, large cloves too
Hard-neck garlic; gets little flowers/bulblets up the stem – edible as soft green salad component, in mid-spring
Elephant garlic is actually a leek, with a swollen stem – not a garlic – very mild flavour
Shallots can also be planted now!
Well-drained soil, shallow planting (tip just above the ground) – 15 cm spacing.
Cover with ground sheep dags (KINPACK) or fine, rich compost.
Keep moist –but not overly moist, because that encourages rotting.
Harvest when the foliage dies down (in my case early to Mid November).