Ruud Kleinpaste: Gardening in the dry heat
Author

Publish Date

Sat, 11 Dec 2021, 12:03pm
Follow the podcast on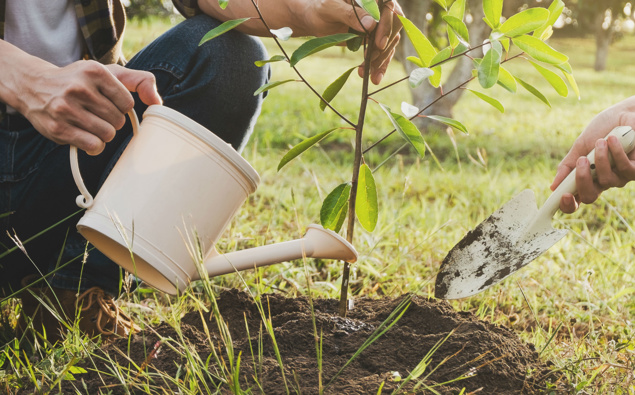 Ruud Kleinpaste: Gardening in the dry heat
Author

Publish Date

Sat, 11 Dec 2021, 12:03pm
Gardening in a dry, hot time
Always tricky; evaporation and transpiration really take it out of the ground and the plant's system.
Water when it gets cooler (late evening or better still: really early morning).
Try not water all over the plants – it needs to end up in the root zone, so aim for that.
Water on leaves causes burning and that hurts the plants.
Droplets can act as a microscopic lens that magnifies the sun rays.
Imagine an upside-down plastic bottle buried into the root-zone of a shrub… with its bottom cut off.
Now fill the bottle with water and that water slowly leaks out of the neck under the soil surface right into the zone where the roots are.
Easy to re-fill and therefore delivering the water exactly where it's needed
(not on the leaves, but on the roots)
Instead of just water: put some very diluted liquid fertiliser in; water and minerals at the same time!
Sprinklers are quite dodgy: the small droplets will largely disappear (evaporation) before they hit the ground;
Also: you can't really control where these droplets (or the remains there-of) will fall.
Mulch is a covering material that literally protects the soil from direct sunlight. It cools that soil and the root zone and will significantly reduce evaporation from the soil
Because mulch consists of large particles (and not the fine clay or loam and sand particles) it breaks the hygroscopic movement of water in the soil; it's all to do with interrupting the capillary action and that stops water moving from cooler, wetter areas down below to the hotter, drier areas of soil near the surface
DESIGN
With the disruption of climate, some areas will get drier (East Coast) others get wetter (West Coast) or windier.
Adapt planting to these conditions.
Succulents and Mediterranean plants will deal better with drier conditions; as do Salvia, Hosta, Corokia, thyme – do a google search there's plenty of great plants!
Some of our native wetland species can cope with occasional flooding – some trees (kahikatea and plants (flax) are ideally suited to wetlands, as are puketea, swamp maire, ribbonwood, putaputaweta…
Shelter from wind can be useful too.
There are also plants that don't care too much about salt-laden winds (Griselinia, Tecomanthe, bougainvillea, Pyrostegia, Pittosporums, Echiums etc etc).
LISTEN ABOVE