Ruud Kleinpaste: Cluster flies
Author

Publish Date

Sat, 21 May 2022, 11:18am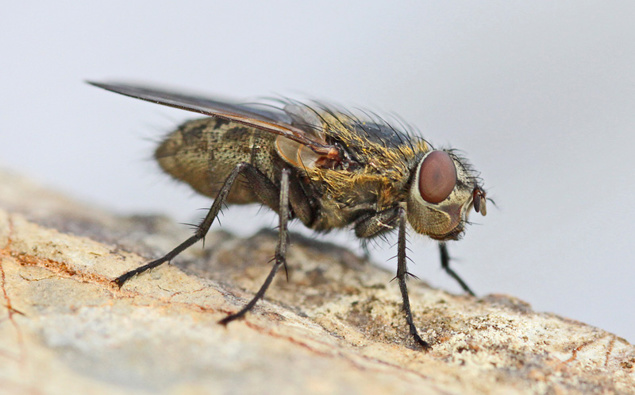 Follow the podcast on
Ruud Kleinpaste: Cluster flies
Author

Publish Date

Sat, 21 May 2022, 11:18am
Pollenia rudis is the cluster fly species we discovered on the North Shore, for the first time in 1984. It may have arrived in some containerised luggage or cargo.
Originally from the Northern countries (Scandinavia - north America) where it lives a peculiar life as a parasite of earthworms.
The female fly lays eggs in dense grass habitats (paddocks and lawns) and often near eartworm tunnels;
The larvae (aka "maggots") hatch, find themselves some way of getting into the soil (gaps around plants or through established earthworm tunnels) and gain entry into the body of an earthworm.
Inside the worm it feeds on the internal body fluids and organs.
Gross? yep! But most animals on the planet have "parasites" (see below) that can cause damage.
The cluster flies that hatch from their earthworm are pretty insects, the size of blowflies (slightly larger that houseflies) with golden hairs on the top of their thorax; In spring and summer I often see them pollinating flowers (The name "Pollenia" is a nice indicator!)
When temperatures get cooler in autumn, these flies usually look for a suitable hibernation place: in holes in the ground, under bark of trees, under mulch layers, etc. But if there's a nice warm human house nearby they will try to gain entry.
By their thousands!
This year we saw a lot of that happening in Canterbury and parts of southern North Island.
They crawl through small holes (ill-fitting window frames, etc) and mark their entry by leaving a residue of Pheromone scent; this means that other Pollenia flies simply follow the trail and join the others…
The pheromone is rather sticky and smells somewhat of Buckwheat honey (hence the name buckwheat fly in the USA).
Cluster flies are not of medicinal importance (like some blowflies) but are hard to remove due to their messy pheromones. Best "prevention" is to ensure there are no entrance holes around the home.
In terms of earthworm population effects: There is no evidence that cluster flies significantly reduce earthworms
Growers and gardeners use some parasites (small wasps!) to reduce the number of caterpillars that eat your cabbages, or certain tiny parasites that literally "hollow out" the green loopers in your houseplants.
Humans have parasites too: tape worm, malaria, hook worm and even insect parasites (fly maggots) that tunnel into your skin (often on the head) in tropical areas - good fun!
Now, the idea of parasitism (as well as predation) is to keep populations "in check" and prevent them from escalating in their natural habitat and ecological systems: if you have a heap of aphids on your roses, the parasites and predators move in to reduce the load on your plants - simple as that.
LISTEN ABOVE