Nici Wickes: Turkey with kumara & sage stuffing
Author

Publish Date

Sat, 12 Dec 2020, 10:24AM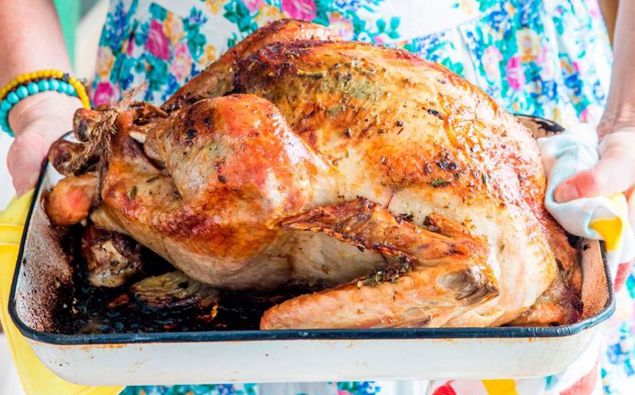 Nici Wickes: Turkey with kumara & sage stuffing
Author

Publish Date

Sat, 12 Dec 2020, 10:24AM
Turkey with kumara & sage stuffing & roasted cherries 
Turkey sometimes gets a bad rap and I can't fathom why. Cooked and rested properly it's a wonderful centrepiece for the festive table and feeds a crowd beautifully.  
Serves 10-12  
Size 3.5-4.5 turkey  
1/4 cup olive oil  
2 tsp sea salt 
2 medium onions, peeled and chopped roughly 
½ cup red or white wine or water 
2 cups fresh cherries   
Stuffing 
2 cups fresh breadcrumbs  
350g kumara, steamed and mashed  
1 onion, diced fine  
50g melted butter (can use olive oil)  
6-8 sage leaves, shredded 
Handful Italian parsley, chopped roughly 
1 tsp salt + ¼ tsp freshly ground black pepper 
Gravy 
1/3 cup plain flour 
¼ cup red or white wine  
Water 
Salt and pepper to taste  
 
Heat oven to 200 C. 

 

Make the stuffing by mixing all the stuffing together. 

 

Prepare the turkey by patting dry cavity and skin with paper towel. Stuff cavity with half the stuffing. Roll remaining stuffing into balls and set aside. Rub oil all over turkey and sprinkle with sea salt. For even cooking, always truss the turkey by which I mean tie its legs together (this helps keep the stuffing in place too) and secure wings into the body too. We chefs have fancy ways to do this (google it if you need a visual) but use kitchen string for the legs and/or tooth picks for wings - both will be removed once cooked so don't worry too much how neat it looks. 

 

Scatter chopped onions in a large, deep roasting dish (one with a lid is even better). Place turkey on the onions, breast side up. Pour wine/water around your bird. Cook for 30 minutes until breast is golden then cover with lid or double layer of foil and continue cooking for however long is recommended on your turkey packaging – usually about 2.5-3 hours for a turkey this size. 

 

At 

2 hour

 mark, add in stuffing balls and cherries around the turkey, baste turkey with pan juices and continue cooking, uncovered until cooked through. If breast and tops of drumsticks look to be getting too browned, cover loosely with foil. 

 

Once cooked, carefully lift turkey, stuffing balls and cherries out of roasting dish. Rest turkey, breast side down, for at least 15 minutes during which you can make the gravy.   

 

Make the gravy; Place roasting dish over medium heat on the stove top. Sprinkle 

over  flour

 and scrape up all the cooked onions and scrummy bits. I use a fish slice. Pour in wine and let sizzle and simmer for one minute. Add water (start with half a cup) and stir out any lumps as it simmers and thickens, but don't stress you'll pour it through a sieve later anyway. Keep adding water bit by bit to get the right consistency. It will need to simmer for at least 10 minutes to fully cook out all the flour. Taste and season with salt and pepper.  Strain into a warmed jug/gravy boat to serve. 

 

Serve turkey on a large platter with stuffing, cherries and some cooked greens (asparagus of you can still find them or beans) on the side.  Enjoy! 

 
Nici's note:  
The key with breast meat that's moist and delicious is half in the cooking and half in the carving. Always rest the cooked bird with the breast side down as this enables the juices to run into the breast meat. Then, when ready to carve, remove the breasts and slice across the breast, rather than lengthwise and you'll end up with lovely tender, juicy sliced turkey.  

LISTEN TO AUDIO ABOVE