Nici Wickes: Sushi sandwiches
Author

Publish Date

Sat, 20 Feb 2021, 10:22am
Follow the podcast on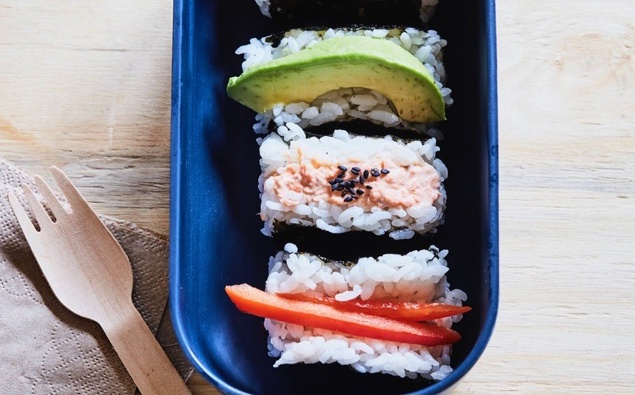 Nici Wickes: Sushi sandwiches
Author

Publish Date

Sat, 20 Feb 2021, 10:22am
Sushi sandwiches 
These little sushi sandwiches are easier to make than regular sushi and they're popular with adults and kids alike.   
Makes 8-10 
 
1 cup sushi (short grain) rice or use short grain brown rice  
1 tsp salt  
105g tin salmon  
2 tablespoons mayonnaise 
Salt & pepper 
½ avocado  
½ red capsicum  
1 packet seaweed snacks (small sheets of seaweed) 
2 tablespoons sesame seeds 
4 tablespoons tamari sauce  
1 teaspoon sesame oil  
Squeeze of lime or lemon juice 
To cook rice: rinse rice a few times then allow to soak for 15 minutes before draining and transferring to a saucepan and covering in twice as much water as rice (

ie

. 2 cups) and adding salt. Cover and bring to boil then simmer for 12 minutes, turn heat off and leave to steam for 10 minutes while you prepare fillings. Cool. 

Fillings: Mix salmon with mayonnaise. Slice avocado and capsicum into thin slices. 

 

Assemble: Wet hands and take 1-2 tablespoons of rice, shape into a sausage shape, cover with seaweed and wrap, leaving one side unwrapped. Make a groove in the top of the exposed rice and add your choice of filling; salmon/mayo, capsicum or avocado. Sprinkle with sesame seeds. Trust me, you'll get better with each one and keeping your hands wet really helps. 

 

Mix tamari, sesame oil and citrus juice together in a small container to pop in with the sushi sandwiches.

 
Note: Cook the rice the night before for a quick assemble in the morning.