Nici Wickes: Slow-cooked lamb shoulder with BBQ sauce
Author

Publish Date

Sat, 10 Oct 2020, 10:47AM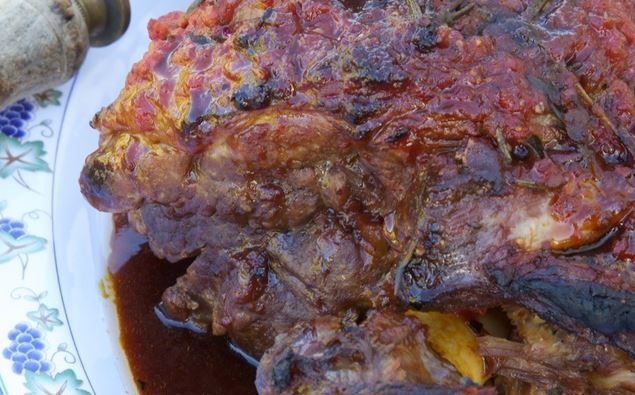 Nici Wickes: Slow-cooked lamb shoulder with BBQ sauce
Author

Publish Date

Sat, 10 Oct 2020, 10:47AM
SLOW-COOKED LAMB SHOULDER WITH HOME-MADE BARBECUE SAUCE
In USA barbecue meats are often paired with spicy and smoky sauces, influenced by the cuisine of the nearby Caribbean.  Serve slow-cooked lamb shoulder in soft buns with lettuce and hot Jamaican-inspired BBQ sauce and I guarantee you'll be popular!
SERVES 6-10
1 – 1.5KG lamb shoulder
MARINADE:
2 medium onions, chopped
4 spring onions
15 whole allspice   
3 T grated fresh ginger
3 bay leaves
2 T fresh thyme
5 cloves garlic
4 T soy sauce
2-3 small hot chillies
Juice from 3 limes (or lemons)
4 T cooking oil
¼ cup water
BARBECUE SAUCE:
¼ c marinade (above)
½ c tomato sauce
1 T soy sauce
Water to thin 
TO SERVE:
Soft bread rolls
Iceberg lettuce
Make the marinade by putting all ingredients in a blender or mortar and pestle and blending until smooth.

Smother the shoulder in the marinade, saving ¼ cup for the BBQ sauce. (see below) Leave for as long as you can.

 

I never have time so it's usually about 30 minutes, but overnight would be fab.
Preheat oven to 180 C. Place marinated lamb shoulder into a roasting dish.

 

Cover and

tightly seal

with foil and cook for 2 hours. 

Remove the foil, add ¼ cup water to the oven dish, and continue to cook the lamb until the skin is well-browned and crispy and meat is falling away from the bone – another 30-45 minutes.

Make your BBQ sauce

by putting remaining marinade in a saucepan with tomato and soy sauces and simmering for 10-15 minutes until thickened.

To serve: Pull the lamb meat apart with a fork and serve on buns with lashings of BBQ sauce and shredded iceberg lettuce. 

LISTEN TO AUDIO ABOVE