Nici Wickes: Pear, blue cheese & walnut tart
Author

Publish Date

Sat, 19 Jun 2021, 10:33AM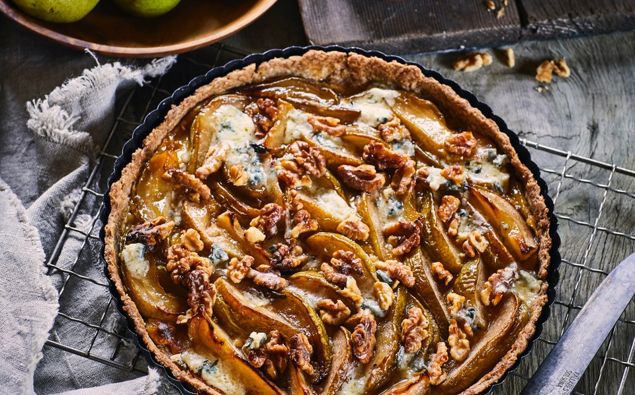 Nici Wickes: Pear, blue cheese & walnut tart
Author

Publish Date

Sat, 19 Jun 2021, 10:33AM
Pear, blue cheese & walnut tart  
Pears pair with tangy blue cheese and honeyed walnuts in this gorgeous tart. Makes 26cm tart  
Pastry  
200g wholemeal flour  
100g chilled butter 
½ teaspoon salt  
6 tablespoons ice cold  water  
2-3 pears  
2 tablespoons butter  
½ cup brown sugar  
3 heaped tablespoons cream cheese  
75g crumbled blue cheese (I used Kapiti creamy blue) 
3 tbsp walnuts, roughly chopped 
Make the pastry by combining flour, chilled butter and salt in a food processor until it resembles coarse breadcrumbs. Don't over work it – lumps of butter are ok. Drizzle in the ice cold water and pulse a few times until it starts to come together in a ball. Turn out and with a light hand press it together into a flat disc, wrap and chill it for 15 minutes. 

 

Preheat oven to 180 C and place a tray in to heat up. Line a 26cm tart tin with baking paper. Roll out pastry and line tin with it. Try to get a thin pastry shell and just patch any holes or tears, it's very forgiving. Prick all over with a fork and return to the fridge. 

 

Make the filling by cutting each pear into quarters and each quarter into 3 or 4 slices.

 

Place the pear, butter and half the brown sugar in a pan on medium and until the pear is softened and the pear juice has mixed in with the butter and sugar to form a syrup – about 5-7 minutes.

 

Mix cream cheese and remaining brown sugar to a paste. Spread this over chilled pastry base. Using a slotted spoon pile the pear mixture into the pastry case, drizzling over some of the syrup and reserving some to serve. 

 

Bake for 25 minutes on the preheated tray, then toss on the walnuts and bake for another 10 minutes or until the edges are well cooked and the pears are golden. 

 

Crumble blue cheese over the tart while still warm and it will melt into the tart. 

 

Serve warm or cold with an extra drizzle of the syrup.  

 
Nici's note: This tart keeps well and is still as fantastic on day 3 as it was fresh out of the oven, maybe even better. 
LISTEN ABOVE