Nici Wickes: Minestrone Soup
Author

Publish Date

Sat, 1 Aug 2020, 10:51AM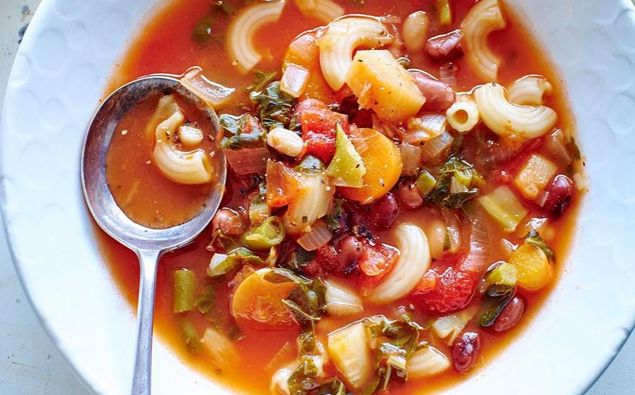 Nici Wickes: Minestrone Soup
Author

Publish Date

Sat, 1 Aug 2020, 10:51AM
Minestrone Soup
It's soup season and this is one of my favourites – it's chunky and hearty yet broth-like too.
Serves 4
1/2 cup mixed dry beans, soaked overnight and drained (or see tips for using tinned beans )
8 -10 cups water (or fresh or frozen saved vege water is ideal)
2 tbsps oil or butter
1 large onion, diced
4 carrots, chopped into rounds
1 parsnip, peeled and cubed
1 broccoli stalk, chopped
2 sticks of celery, chopped
1 cup chopped silverbeet or spinach
1 leek, halved and sliced
½ cup kumara or pumpkin pieces
420g tinned tomatoes
Handful of macaroni elbows
Salt and pepper to taste
Chopped parsley
Soak dried beans overnight.
Roughly chop all the vegetables
In your largest pot heat oil and sauté all the chopped vegetables for 5 minutes, stirring to mix them up.
Add water and tomatoes and soaked beans. Gently bring to the boil and simmer until the beans are cooked through – about 1 – 1.5 hours. Making sure the beans are tender.
Add handful of macaroni and continue cooking until the pasta is cooked.
Serve with chopped parsley on top and crusty bread rolls and enjoy.
Tips
You can substitute dried beans with tinned cannellini, borlotti or kidney beans – just drain them well and add them with the pasta (step 5).
You may use any vegetables such as potatoes, swedes, turnips or fresh beans.