Nici Wickes: Feijoa & toasted coconut strudel
Author

Publish Date

Sat, 27 Mar 2021, 10:35AM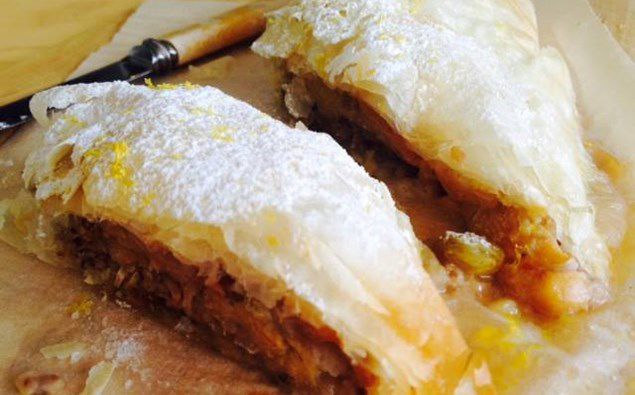 Nici Wickes: Feijoa & toasted coconut strudel
Author

Publish Date

Sat, 27 Mar 2021, 10:35AM
FEIJOA & TOASTED COCONUT STRUDEL  
This strudel recipe uses feijoas as well as apples and adds a hint of the South Pacific with toasted coconut which makes it an even more magical dessert!   
Serves 2-4  
1 cup feijoa flesh (scooped out of the skins), chopped small  
1 granny smith apple, grated or diced very small  
1 tbsp honey  
2 tbsp golden raisins 
½ tsp ground ginger  
½ tsp vanilla extract  
½ cup fresh breadcrumbs 
2 tbsp long thread coconut, toasted  
Zest from ½ lemon 
50g butter, melted  
4 sheets filo pastry 
Ice cream to serve  
Preheat oven to 180 C. Line a tray with baking paper. 

Combine the feijoa, apple, honey, golden raisins, ginger and vanilla into a saucepan and bring to a simmer over a low heat. Cook for 1-2 minutes. Cool.

 

In a bowl, combine breadcrumbs, coconut and lemon zest. Drizzle in half the melted butter and combine.

 

To assemble the strudel: lay out the filo sheets, one on top of the other, brushing melted butter between each layer. Work quite quickly when you do this so that the sheets don't dry out. Brush the top layer with butter too.

 

Spoon the breadcrumb mix along the long edge of the pastry, about 10cm above the bottom edge and 3-4cm shy of either side. Pile the cooled fruit filling on top of this. Start to roll your strudel up, bringing the edge of pastry closest to you up over the filling and continue to roll, tucking in the sides/ends about halfway through.

 

Carefully place the strudel on the lined baking tray, seam side down. Brush the top with melted butter.

 

Bake for about 20-25 minutes, or until golden. 

 

Dust with icing sugar and serve warm thick slices with vanilla ice cream. 

 
LISTEN TO AUDIO ABOVE