Nici Wickes: Easter surprise muffins
Author

Publish Date

Sat, 9 Apr 2022, 9:59am
Follow the podcast on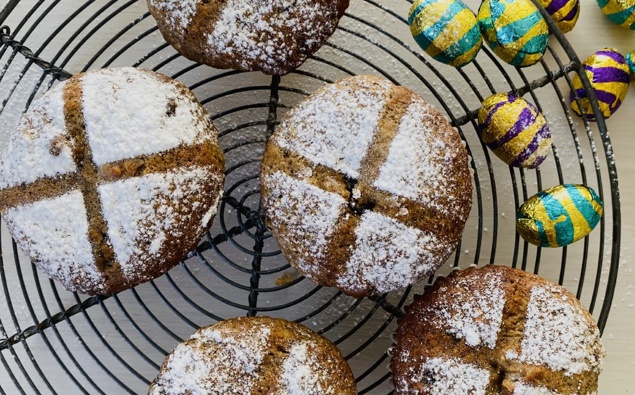 Nici Wickes: Easter surprise muffins
Author

Publish Date

Sat, 9 Apr 2022, 9:59am
Try one of these muffins, warm from the oven, and you will swoon I guarantee it! They are so evocative of an Easter bun, with the spices and currants, and then the surprise of a caramel egg in the centre is just pure genius! They're a real Easter treat.
Makes 12 regular muffins
100g butter
2 heaped tbsps golden syrup
3/4 cup caster sugar
1 cup plain yoghurt
2 eggs
2 cups flour
1 ½ tsp baking soda
1 ½ tsp cinnamon
2 tsps mixed spice
Zest of an orange
1 cup currants
12 little chocolate caramello Easter eggs, about the size of an apricot stone.
1. Preheat the oven to 180 C fan bake. Grease a 12-hole muffin tin well.
2. Gently heat the butter and syrup just until the butter has melted then mix in the sugar followed by the yoghurt and egg and beat until well mixed. Lightly stir in the dry ingredients including the zest and currants. Don't over mix, just until combined.
3. Spoon batter to ¾ fill into muffin holes and on each gently place an Easter egg, pressing it to submerge slightly. Bake for about 12 to 15 minutes or until they spring back when touched.
4. Cool for 5 minutes before removing from the tin. Enjoy.
Tip
Be a little careful and don't eat these as soon as they come out of the oven as the lovely gooey centre is very hot!!
LISTEN ABOVE